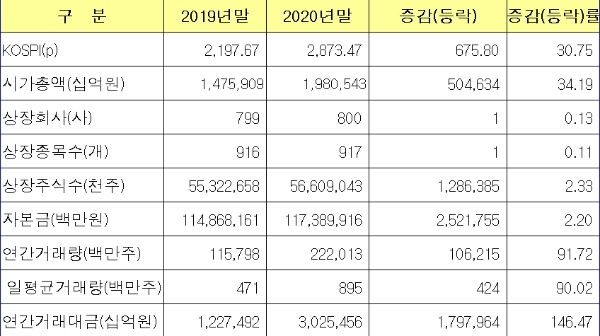 Korea Composite StockPrice Index (KOSPI) closed 2020 with a record-breaking all-time highest figure,finishing 2020 with a happy ending.
According to the Korea Exchange's report on Dec. 30, there was a 32% jump (698.30 points) this yearfrom 2,175.17 (Jan. 2, 2020) to 2,873.47 (Dec. 30).
Looking back at this year, KOSPI went back and forth from rock bottom to sky-high. Due to theCOVID-19 pandemic shock, KOSPI plummeted to 1,457.64 this past Mar. 19. Afterhitting its lowest figure of the year, it took four months for KOSPI to recoverand surpass last year's closing figure, by reaching 2,201.88 on Jul. 15. Themain factors that contributed to this recovery were an inflow of individualinvestor-centered buying and the move globally by nations to build policies torevitalize national economy.
KOSPI hit 2,602.59 on Nov. 23, buoyed by anticipation of global economy's recovery and in turnincrease in export, as well as prospect of improved performance of domesticfirms. The figure was an all-time high since KOSPI reached 2,598.19 on Jan. 29,2018, which was 2 years and 10 months ago.
In the last month of 2020, from Dec. 24 to 30, KOSPI surpassed previous day's figure for five days tobecome the all-time high each time, and jumped past 2,870 to become the highestfigure ever recorded.
KOSPI's profit rate based on closing prices came out to 32%, which is the second highest rate amongG20 nations.
According to the finance and investment industry, the profit rate of this year's World MSCI Index cameout to 12.8%. The finance circle interpreted this as not so much a reflectionof general trend but more of a result of boom experienced by some nations.
South Korea was one of six countries that had profit rate exceeding that of the World MSCI Index. Theother countries include the U.S., China, Denmark, Taiwan and India.
Choi Seong-hae, Global Economic reporter