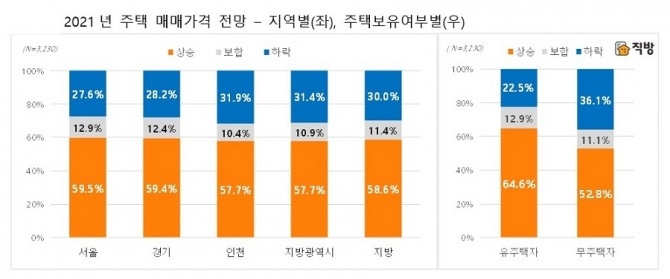 Six out of 10 SouthKoreans predicted that homes in their neighborhood will have a price increasein 2021.
Zigbang Co Ltd, a South Korean company that provides information online on real estate and the housing market,said, "A mobile survey conducted among 3,230 people who used Zigbang's app lastmonth from Dec. 7 to 20 found that 59% of respondents think that the rent priceand purchase price of homes in their neighborhood will increase."
Twenty nine percent of respondents answered that price will decrease, while 12% responded there willbe no change in price.
More than 55% of respondents from all age groups answered that they expected price to increase. Higherproportion of respondents in their 30s, and 20 and below predicted priceincrease, with the answer garnering 62.0% and 61.0% of responses respectively. Thefigures were 58.0% for people in their 40s, 56.6% for people in their 50s, and 56.6%for people over 60, showing a decrease in percentage of respondents who thinkprice will increase with age.
By area, percentage of responses for "increase" generally hovered between 58 to 59%, with minimaldifference, and relatively higher percentage of responses from Seoul (59.5%)and Gyeonggi province (59.4%) areas were towards "increase."
Furthermore, a noticeably higher percentage of respondents who own a home predicted price will increase(64.6%), compared to the response percentage of respondents who do not own anyhome to their name (52.8%).
From the answers selected by the 1,904 respondents who predicted property price increase, more peoplebuying homes as a result of rent increase was the most popular reason at 36.5%.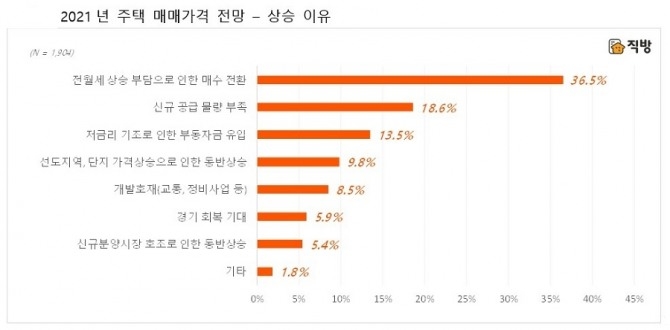 The next most selectedreasons included the following: "lack of new homes available" at 18.6%, "influxof real estate investment stemming from low interest" at 13.5%, and "priceincreasing following price increase of apartment complexes in leading neighborhoods"at 9.8%.
On the other hand, 937 respondents who predicted that housing prices will fall this year picked thefollowing reasons: "because of high current prices" at 25.8%, "economicuncertainty due to COVID-19" at 23.5%, "increase in property selling by ownersof multiple homes" at 22.4%, and "strengthening of tax regulations such as for propertyand transfer tax" at 14.4%.
With regards to price of jeonse (lump-sum rent paid over a long-term period), 65.5% of respondents predictedthat it will increase. 18.5% of respondents predicted it will fall and 16% predictedit will remain the same.
Relatively higher percentage of respondents in their 30s and respondents of Seoul anticipatedincrease of jeonse, at 68.8% of respondents in their 30s and 68.2% ofrespondents from Seoul.
An interesting observation is that while 70.3% of home owners predicted jeonse will increase, only 60.2%of respondents who do not own their own home made the same prediction.
"A lack of homes up for jeonse" was the biggest cause for increase of jeonse, being chosen by 54.9% of therespondents.
Monthly rent was also expected to increase by the majority of respondents at 61.2%, and a relativelyhigh number respondents in their 40s expected an increase, with 60%.
Zigbang deemed that this figure reflects the hope of those in their 40s for monthly rent to increase asthere is a high possibility that an individual from the corresponding age groupowns a rental home.
The survey conducted has a sampling error of ± 1.72% at 95% confidence level.
Kim Ha-soo, Global Economic reporter