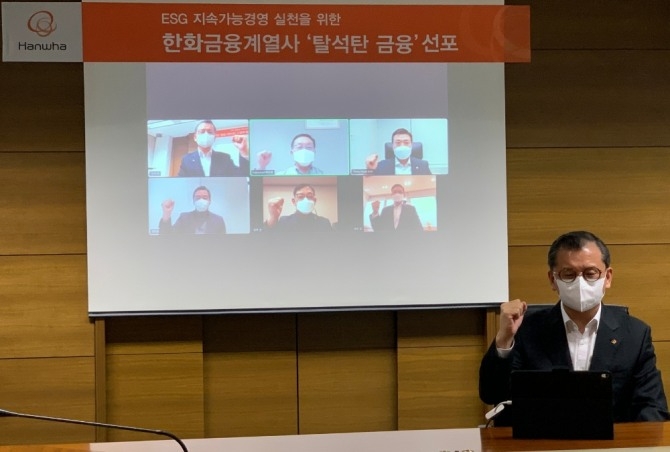 Six financial affiliates of the Hanwha Group, including Hanwha Life Insurance, Hanwha General Insurance, Hanwha Investment & Securities, Hanwha Asset Management, Hanwha Savings Bank, Carrot General Insurance, after the resolution and practical review by the Financial Supervisory Commission, declared on January 5 about the new strategy of "De-Coalizing Finances of Hanwha Financial Affiliates" moving toward a carbon zero era.
The six financial affiliates of Hanwha Group will not participate in financing projects for construction of domestic and foreign coal power plants in the future. It was also decided not to take over bonds issued by a Special Purpose Company (SPC) for the construction of domestic and foreign coal power plants. Even if general bonds were aimed to be used for the construction of coal power plants, these bonds would not be considered. Instead, it is planned to continuously expand investment in eco-friendly assets, such as clean and renewable energy.
The declaration of "De-Coalizing Finance" strategy is the first step in the action plan of financial affiliates to actively participate in the "sustainable management through social and economic value creation" that Hanwha Group aims for.
Hanwha Group's Chairman Kim Seung-yeon stated in this year's New Year's speech, "ESG (Environment, Society, Governance) has become a core management principle for global companies. As a leader in the global clean and renewable energy sector, in order to actively respond to climate change and reach the a zero-carbon era, we are implementing an environmental management."
In celebration of the 68th anniversary of the founding in October of last year, "The company will be evaluated for economic, social and environmental sustainability in all areas of management, and it is already becoming a key indicator that determines the future of the company," the Chairman explained the essence of ESG management.
"De-Coalizing Finance" is a declarative activity by financial institutions that are not willing to participate in financial investments and support thermal and coal power projects to solve the climate change problem. Many members of the society, including local governments, education offices, civil groups, and environmental organizations, as well as financial companies, are actively supporting the "De-Coalizing Finance".
By Global Economic Reporter, Ji-Wan, Nam