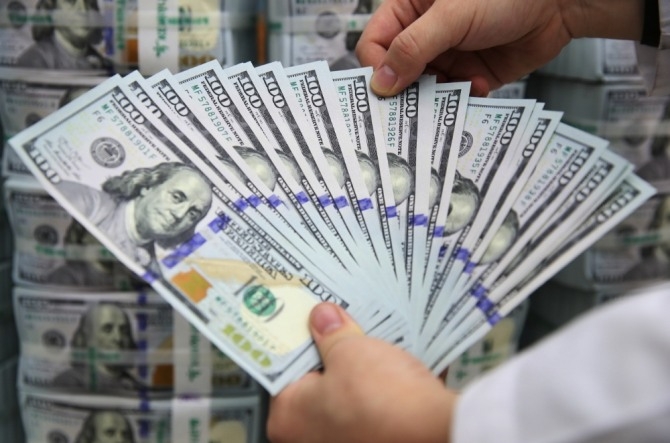 South Korea's foreign exchange reserves surpassed $440 billion. For seven consecutive months, each record high figure was replaced with another record high.
According to South Korea's central bank, Bank of Korea, on Jan. 6, South Korea had reserves of $443.1billion at the end of December last year. This was an increase of $6.72 billion from the previous month's $436.38 billion.
"The forex reserves have increased as a result of factors such as higher amount of U.S. dollars from the conversion of non-U.S. foreign currency assets following the weaking of the U.S. dollar, increase of bank reserves, and profit earned from operating foreign currency assets," said the Bank of Korea.
During March of 2020, South Korea's forex reserves decreased by roughly $90 billion to $400.21 billion affected by market stabilization measures put on against COVID-19. As the funds that were put into the market as part of the stabilization measures were recovered, April yielded an uptrend, and the rising trend continued for nine months straight.
In June of last year, the reserves surpassed $410 billion, reaching an all-time high, and since then has consecutively exceeded the all-time high for seven months.
Marketable securities, totaling $409.84 billion, make up 92.5% of South Korea's forex reserves. Total deposit amount is $20.28 billion and gold reserves amount to $4.79 billion.
The International Monetary Fund (IMF) position, the exchangeable currency withdrawal right for the IMF, is at $4.82 billion and the IMF Special Drawing Rights (SDR) is at $3.37 billion.
As of the end of November, South Korea ranked ninth in the world among countries with the top forex reserves.
China ranked first with $3.18 trillion, which was an increase of $50.5 billion from the previous month.Japan was second, with reserves totaling $1.38 trillion, and Switzerland was third, with reserves of $1.04 trillion.
By Global Economic reporter Sang-il Baik