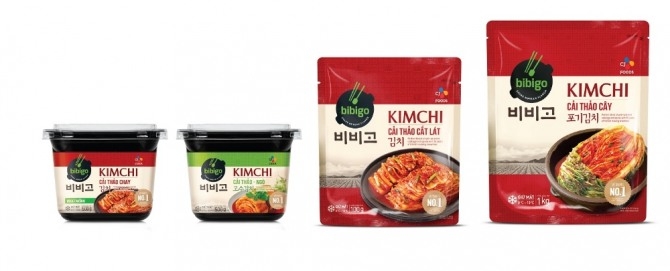 South Korean food company CJ CheilJedang Corp has been making full-fledged efforts to grow their business in the Vietnamese market, with kimchi products of the company's in-house brand Bibigo spearheading the push. The company's efforts seem to be paying off, as CJ CheilJedang announced on Mar. 8 that Bibigo's kimchi product line made about $13.8 million (about 15 billion won) in sales in Vietnam last year, up 25% from the previous year.
Over the past three years from 2018 to 2020, Bibigo has had more than 50% market share of Vietnam's kimchi market, meaning that more than half of the consumers who bought kimchi in Vietnam purchased a kimchi product from Bibigo.
CJ CheilJedang entered Vietnam's kimchi market in 2016 and has been producing Bibigo's kimchi products locally in the country for six years. The kimchi market of Vietnam, which was worth $8.5 million (10 billion won) in 2015, grew steadily since CJ CheilJedang entered the market and nearly tripled in size in 2020 (from its 2015 market value). The market was worth almost $24 million (26 billion won) last year.
The key to success of Bibigo's kimchi products comes from CJ CheilJedang's strategy of localizing products while keeping Korean fermentation technology at the foundation. Previously, the kimchi sold in Vietnam were too sweet and had strong fish sauce taste and aroma, so they deviated from the taste and flavor of authentic Korean-style kimchi.
Thus, CJ CheilJedang maintained the essence of Korean-style kimchi by using traditional ingredients and recipe for making Bibigo's products, but also made some adjustments to suit local consumers' tastes. One of the modifications that the company made was to adjust the degree of kimchi's spiciness to eliminate the feeling of resistance that the red color of kimchi may invoke as the color may be reminiscent of kimchi's spiciness and stimulating taste.
While the company keeps its main focus on Bibigo's sliced kimchi product, another modification that the company made to kimchi is incorporating cilantro into the dish, which resulted in the release of "cilantro kimchi." Cilantro is a very popular ingredient used as spice in Vietnamese cuisine. Furthermore, for consumers who do not eat meat products and ingredients derived from animals for religious reasons, CJ CheilJedang also introduced "vegetarian-style kimchi," which are made without the use of fish sauce.
"K-kimchi" marketing also proved to be an effective promotional tactic. CJ CheilJedang emphasized that Bibigo's kimchi products come from the Korean food brand of South Korea's leading food company, and placed focus on building the trust of consumers. It also actively promoted that the uniquely natural fermentation process involved in making South Korean kimchi makes the dish even healthier, while being tasty at the same time.
By Global Economic Reporter Min-Ji Sohn