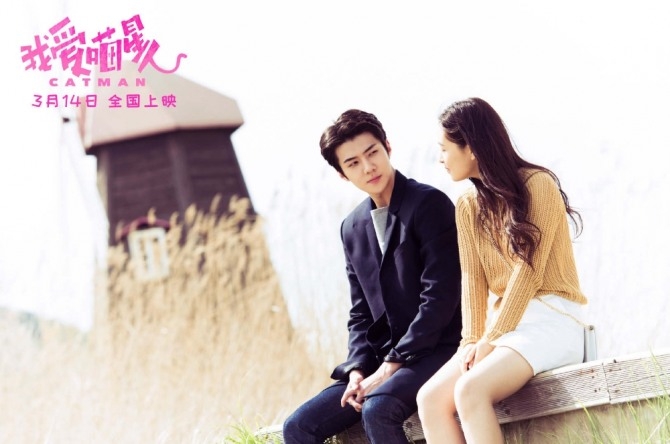 It is known that the movie "Catman" (Chinese name "Ae Myo Sung-in"), the release of which had been postponed indefinitely, starring Sehun, a Korean idol from the group "EXO", was released on the 14th.
Chinese media channel "36 Ker (35kr, 36氪)" reported Sunday (local time) that the joint lead film "Catman" (我爱喵星人) was released in China.
The media reported that the film, which was filmed in 2016 and scheduled to be released in 2017, was put on hold as it struck ``Han Han Ryeong'', a law that bans Korean culture in China. Under that law Korean films were banned in China, Korean artists were not allowed to perform on the mainland, Korean dramas were not aired on mainland television channels, and Chinese video sites stopped broadcasting Korean programs.
Director Park Hee-gon grabs a megaphone, and Sehun and Chinese actress Wu Chen play in "Catman". It is a romantic fantasy movie about the couple that have to travel between the world of humans and the world of cats.
"36 ker" reached a golden age with the popularity of the Korean drama "My Love from the Star" and "Descendants of the Sun" in China until the summer of 2016 and the activities of the group EXO, BIGBANG, Super Junior, etc. The ban of Korean culture changed it all of that overnight. For the next four years, the Korean Wave hit cities around the world, but the Chinese entertainment business did not have a chance to encounter the Korean Wave.
It has also been reported that four and a half years have passed since the Chinese government officially announced their countermeasures to the THAAD implementation (Terminal High Altitude Area Defense) in July 2016. During this period, there have been several news of the lifting of the ban in the industry, but those were only attempts.
It was revealed that, "It is finally in 2021 that "Catman' is scheduled to be released, and Korean entertainment industry finally returning to the Chinese market." Prior to this, Chinese Central Broadcasting Corporation signed a cooperation agreement with the Korea Broadcasting Corporation (KBS) to establish mechanisms for comprehensive cooperation in areas such as program content, media technology, and industrial management, etc."
By Global Economic reporter Seong-eun Kim