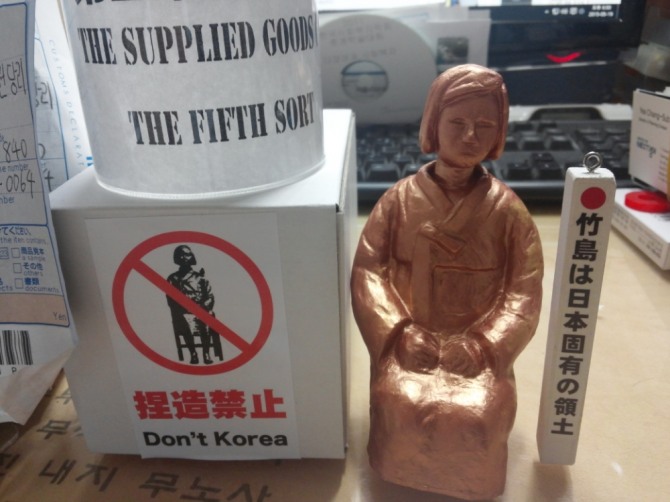 The trial of Nobuyuki Suzuki, 55, a Japanese extreme rightist, who was accused of committing a "act of terror'' to "comfort women'' girl statue, has been ongoing for 11 months due to the absence of the defendant.
Seoul Central District Court Criminal 1st Deputy Judge Chang-woo Hong, who charged Nobuyuki Suzuki with defamation and other charges, said, "It is difficult to proceed with the trial due to the absence of the defendant," and appointed the next trial on Apr. 9.
Suzuki, who was charged in February 2013, did not attend any of the 19 trials held until this day by the prosecution.
The judge said, "The Ministry of Justice filed a extradition request against the Japanese government in 2018 and separately filed a request to Japan in January 2019. There is no apparent change in circumstances from that time."
In June 2012, Mr. Suzuki was accused of insulting the honor of comfort women by causing a so-called ``Takeshima act of terror'' to a girl statue installed in front of the former Japanese embassy in Seoul, Jongno-gu, Seoul in June 2012.
He is also accused of defaming the Martyr in Kanagawa, Dr. Yoon Bong-gil's honor by writing "Yoon Bong-gil is a terrorist," along with placing a photo of Takeshima at the memorial of Dr. Yoon Bong-gil in Kanagawa City, Japan.
He even sent an offence to the Seoul Central District Prosecutors' Office, refusing to comply with the prosecution's notification of summons for criminal investigation.
The judge said, "I ask the prosecution to check the progress and actively urge the request for extradition if necessary."
By Global Economic reporter Jeong-sun Lee