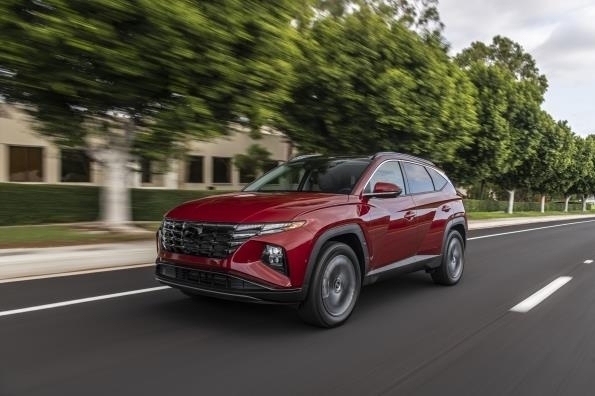 South Korean automakers Hyundai Motor Co and Kia Corp both achieved record-high sales volumes last month in the U.S. market.
Hyundai Motor's subsidiary Hyundai Motor America reported on Apr. 1 that it recorded a total sales volume of 75,403 units last month, up 115% from March 2020 sales volume. In terms of quarterly sales, it sold 167,130 units in the first quarter of this year, up 28% year-on-year.
This year's March sales total is the highest monthly sales figure ever recorded in Hyundai Motor America's history.
In particular, retail sales rose staggeringly by 153% year-on-year to 72,740 units.
Retail sales for Hyundai Motor America's entire lineup increased, according to Hyundai Motor America's press release. Led by Hyundai's all-new Tucson model, Hyundai's SUVs saw sales volume increase by 173%, while Hyundai's eco-friendly car lineup also saw its total sales volume rise 235%, with the Ioniq selling 1930 units and the Nexo selling 30 units. The Ioniq's sales volume is a 153% increase from March last year, and the Nexo's sales volume soared by an enormous 329% from same month last year.
Kia also posted a record-high monthly sales volume and an all-time high first-quarter sales volume in the U.S. last month.
Bolstered by the strong sales of its K5 and Seltos models, Kia sold 66,523 units in the U.S. last month, which is a 46.5% increase of last year's March sales volume. First-quarter sales also rose 15.7% year-on-year to total 159,550 units.
The Kia Telluride, an SUV model, also continued to perform strongly, as it sold 8,591 units last month and posted its highest-ever sales volume for the month of March.
Meanwhile, Hyundai Motor's luxury car brand Genesis sold 8,222 units in the first quarter of this year, up 107.9% from the same quarter a year earlier, thanks to the popularity of the brand's GV80 model.
By Global Economic Reporter Hyun-Soo Kim