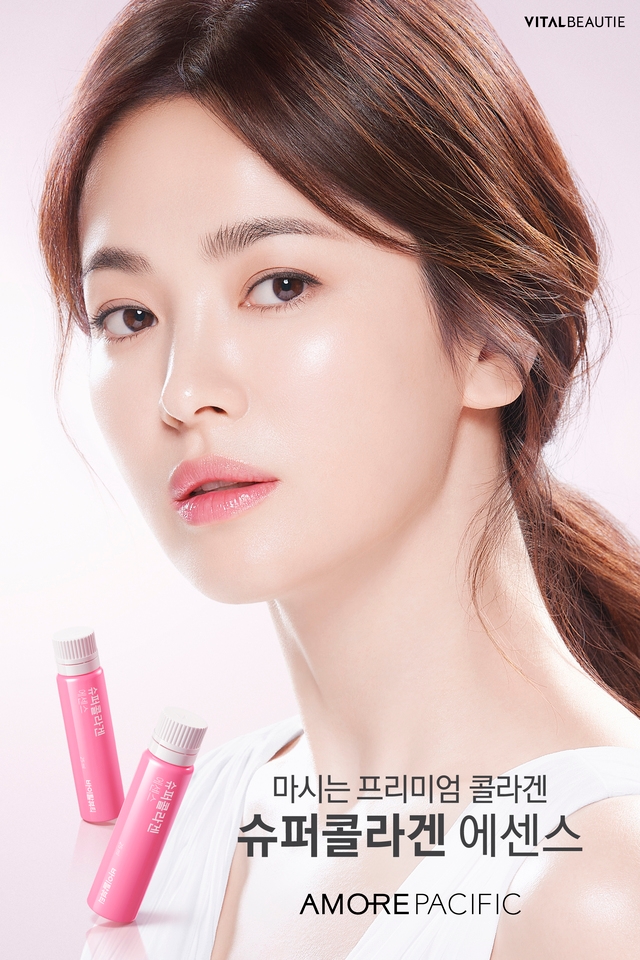 AMOREPACIFIC's representative inner beauty solution brand Vital Beauty announced on Apr.2 that it has completely renewed its lineup of Super Collagen, a functional health food product, and released Super Collagen Essence.
Super Collagen presented the paradigm of "beauty food" for the first time in Korea. It is a best-selling product that has surpassed 70 million bottles in cumulative sales since its launch in 2010. It has been loved steadily for 11 years.
Super Collagen Essence is a variation of Super Collagen targeting millennials. The word "essence" was added to differentiate between the two.
On Mar. 22, it was picked up by some retailers such as AMOREPACIFIC's official online mall (AP Mall), and more than 25,000 ampoules were sold within a week, raising expectations.
In particular, the brand image positioned as "Hallyu Empress" Hyekyo Song's secret of healthy and beautiful skin' is attracting female consumers' attention.
Super Collagen Essence contains AP Collagen Enzyme Degrading Peptide as the main component. This ingredient was developed by AMOREPACIFIC with its own technology and was recognized by the Ministry of Food and Drug Safety for its collagen skin improvement function for the first time in Korea in 2010. Through actual human application tests, the effect of improving skin elasticity, skin moisturization, and skin roughness was confirmed.
It also has a large amount of nutrients necessary for healthy skin composition, such as hyaluronic acid, elastin, ceramide, which are essential components of the skin, vitamin C, selenium, and biotin, which help collagen synthesis.
By Global Economic reporter Hee-jin Yeon