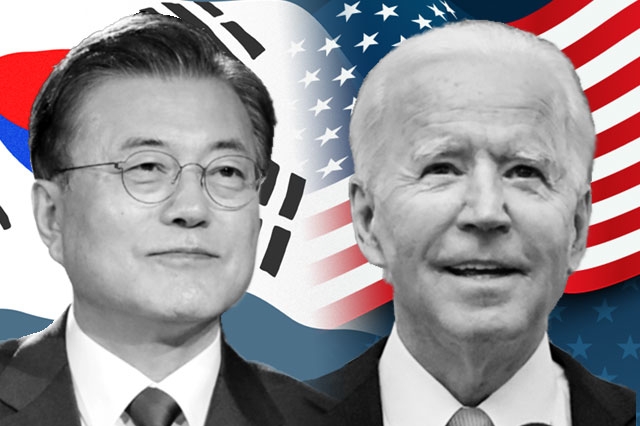 It is known that President Moon Jae-in and U.S. President Joe Biden will be actively considering a plan to hold the first summit before the G7 (7 major countries) summit in June.
Several senior ruling party members spoke to Yonhap News Agency on the phone
on Apr.2, "We know that the ROK-US authorities are closely discussing plans to hold the first ROK-US summit before the G7 summit."
This is different from the initial observation that the two leaders will meet for the first time at the G7 Summit held in England on June 11-13.
If the summit is concluded, the possibility of President Moon's visit to the US increases.
During their first call on Feb. 4, President Moon and President Biden agreed to hold a summit as soon as the situation of the novel coronavirus infection (COVID-19) subsides. At the time, President Biden emphasized the importance of a face-to-face dialogue.
Since then, the two countries have been coordinating the timing of the summit through communication channels between the Blue House and the White House, the Ministry of Foreign Affairs and the Department of State, and it is reported that they are putting emphasis on holding a meeting before the G7 summit in June.
When US Secretary of State Tony Blincoln visited Korea last month, it was reported that this issue was addressed.
In particular, after discussions with the heads of the Korea-US and Japan security offices, National Security Officer Seo Hoon, who is currently visiting Washington, DC, is known to meet with White House National Security Adviser Jake Sullivan, and discussions are expected to progress.
An official said, "Once the Director Seo Hoon returns after visiting the United States, the outline of the ROK-US summit will come out."
As President Biden is holding a summit with Japanese Prime Minister Yoshihide Suga, who is visiting the United States from Apr.8-10, there are observations that the first summit between President Moon and President Biden will take place in April.
By Global Economic reporter Jeong-seon Lee