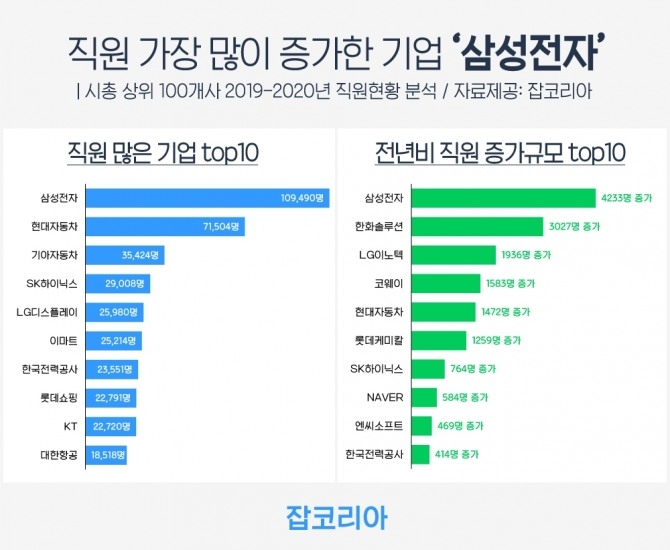 Samsung Electronics Co Ltd did not lose steam even during a year ravaged by the COVID-19 pandemic, coming out as the top company in terms of the largest number of new employees recruited last year among the top 100 South Korean companies (based on their market values).
According to Apr. 5 information gathered from the results of an analysis done by recruitment services company JobKorea Co Ltd, Samsung Electronics has the largest total number of employees among the 66 companies of the top 100 South Korean companies that have disclosed information about their employment situations for both 2019 and 2020. JobKorea performed its analysis on the employment situations of the 66 companies, and found that Samsung Electronics' headcount stands at 109,490.
Hyundai Motor Co was found to have the second-highest headcount with 71,504 employees. After Hyundai Motor, Kia Corp (35,424 employees), SK Hynix Inc (29,008 employees), LG Display Co Ltd (25,980 employees), E-Mart Inc (25,214 employees), Korea Electric Power Corp or KEPCO (23,551), Lotte Shopping Co Ltd (22,791 employees), KT Corp (22,720 employees), and Korean Air Co Ltd (18,518) were found to be the companies with the greatest number of employees among the companies analyzed by JobKorea.
By gender, Samsung Electronics also has both the largest numbers of male employees (81,082) and female employees (28,408).
Following Samsung Electronics, the companies with the highest numbers of male employees were found to be mostly semiconductor and manufacturing companies: Hyundai Motor (67,505 employees), Kia (34,068 employees), LG Display (21,932 employees), SK Hynix (18,703 employees), and KT (18,684 employees).
Meanwhile, E-Mart was found to be the company that employs the largest number of female employees after Samsung Electronics with 15,760 female employees. Companies operating in the electronics industry, retail industry, or airline industry were mostly found to be employing the next-highest numbers of female employees: Lotte Shopping (15,439 employees), SK Hynix (10,305 employees), Korean Air (8,066 employees), and Industrial Bank of Korea (7,490 employees).
Despite the spread of COVID-19 last year, many companies were found to have increased their headcounts, and six companies each added at least 1,000 more employees.
Being the South Korean company that saw the largest increase in the number of its employees last year, Samsung Electronics added 4,233 employees to its total headcount from 2019. Hanwha Solutions Corp had the next biggest gain in the number of its employees, with an addition of 3,027 more employees to the previous year's headcount. The big increase in Hanwha Solutions' headcount is seen as being a result of Hanwha Solutions' merger with Hanwha Q Cells & Advanced Materials Corp.
LG Innotek Co Ltd followed Hanwha Solutions as having the biggest increase in employee count from 2019 with 1,936 more employees added to its total headcount. Coway Co Ltd, Hyundai Motor, and Lotte Chemical Corp then followed LG Innotek in terms of adding the most number of employees between 2019 and 2020. The three companies also rounded out the list of firms that added at least 1,000 more employees to their headcounts from 2019.
SK Hynix, Naver Corp, NCSoft Corp, and KEPCO then capped JobKorea's list of companies that saw the biggest increase in headcounts last year.
By Global Economic Reporter Hyun-Joo Han