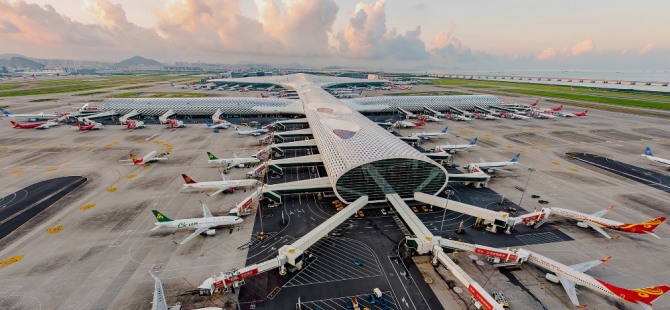 WHEN Metro Line 20, a rapid transit rail line connecting Terminal 4 of Shenzhen Bao'an International Airport to Shenzhen World Exhibition & Convention Center in Bao'an District, begins operation at the end of this year, it will use driverless technology.
Phase I of Line 20 has recently successfully completed its electricity-load test. The 8.36-km rail has five stations, which include three interchange stations. Passengers will be able to transfer to Line 11 and Guangzhou-Dongguan-Shenzhen Intercity Rail at Airport North Station. Passengers can also transfer to Line 12, which is still under construction, at Guozhan Center South Station and transfer to Line 30, which is in planning stages, at Guozhan Center. The line could possibly be extended northward to Dongguan in the future.
Line 20 will be the first fully automated Metro line of the city, and, when they are put into operation in 2022, the driverless technologies will be applied on Lines 12, 13 and 14, and then also on Line 16, when it is put into operation in July 2023, according to Shenzhen Metro Group.
Fully automated Metro lines offer numerous advantages over their human-controlled counterparts. Metro lines with unattended train operations can reduce required manpower by 30-70 percent, achieve higher frequency, increase space for passengers and improve reliability by over 50 percent, according to the Metro company.
Shenzhen Metro Group has begun construction of a center for testing fully automated operation, at Shenyun Depot in Nanshan District, thus ushering the city into an era of driverless driving in Metro transportation.
The test center, to be equipped with the highest standard of fully automated driverless systems, GoA4 transport system, will begin functioning in June this year.
As a key project in the city's rail construction, the center is coupled with cloud technologies and communications functions between trains. After the center is put into operation, it not only can upgrade the existing rail lines, but also conduct tests for the driverless systems of different manufacturers and research on key technologies of next-generation trains like control technologies, connectivity, intelligent operation and virtual coupling.
In another development, recently, the other fully automated system, the EMC50 intelligent seawater sample collection equipment developed by Southern University of Science and Technology, passed experts reviews.
The marine system enables a drone to collect a 1-kilogram water sample within a distance of 5 kilometers and has the capacity for 10 drones to collect water samples simultaneously. The system can also work for 24 hours a day to complete sample collection and tests. The system will be used in the marine environment monitoring and ecological engineering construction.
By Shenzhen Daily reporter Han Ximin