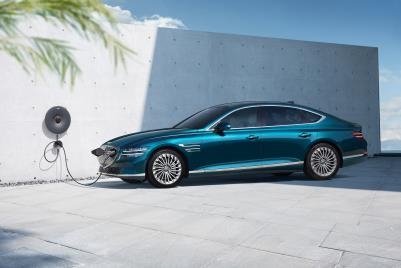 Hyundai Motor Company and Kia launched their first dedicated electric cars, the Ionic 5 and EV6, at the 2021 Shanghai International Motor Show to target the Chinese eco-friendly car market. Genesis unveiled its first G80 electric model.
Hyundai Motor Company and Kia plan to lead the electrification of the Chinese automobile market by establishing 13 and 8 electrification lineups, respectively, by 2030.
On Monday, Hyundai Motor Company participated in the Shanghai International Motor Show held at the Shanghai Convention Center in China and unveiled the Ioniq 5 for the first time in China.
"It is meaningful that Hyundai's electric vehicle is being introduced in China for the first time," said Lee Hong-peong, head of the brand and sales division of Hyundai Motors at a Motor Show press conference. He added, "Starting with the Ionic 5, the company will increase its competitiveness in the Chinese electric vehicle market."
Ionic 5 is the first vehicle to apply E-GMP, an exclusive platform of Hyundai Motor Group electric vehicles, and can drive up to 429 km (long range 2WD model, based on 19-inch wheels) per charge.
In case of 350㎾ class super-fast charging, the car can be charged from 10% to 80% of the battery capacity within 18 minutes, and a maximum of about 100km can be driven by charging for 5 minutes.
At this Motor Show, Hyundai Motor Company re-emphasized four strategies: expanding electrification to target the Chinese market, strengthening hydrogen technology, presenting future mobility solutions, and strengthening local technology.
Hyundai Motor Company plans to launch a dedicated electric vehicle model in China every year from next year and build 13 electric vehicle lineups by 2030 by releasing various electric models such as hybrid models and hydrogen electric vehicles.
Hyundai Motor Company will exhibit a total of 15 vehicles, including the Ioniq 5, Nexo, Ming2 EV, and Palisade at this Motor Show, which will be held until the 28th.
By Global Economic Reporter Hyunsoo Kim