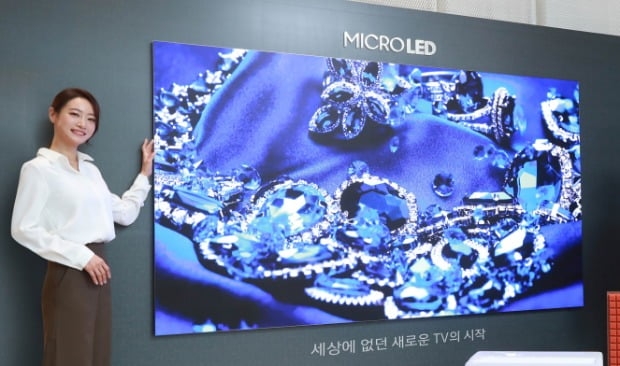 Samsung Electronics is considering expanding the production line of the next-generation micro LED TV.
President of Samsung Electronics Jong-hee Han said at the "World IT Show 2021" held at COEX in Samsung-dong, Seoul on Wednesday, "The 146-inch micro LED line with the largest screen is already in full operation. If 70-inch and 80-inch products are released during second half of this year, production lines will need to be expanded."
Micro LED is a next-generation display in which an LED (organic light emitting diode) device in micrometers (µm·1µm = 1 millionth of a meter) emits light and color by itself. Samsung Electronics receives LED chips from the Chinese San'an Optoelectronics, and produces micro LEDs at its TV business department in Ho Chi Minh, Vietnam.
In addition, Samsung Electronics is working to increase the yield of micro LEDs by increasing the market size and lowering the high price point. It is known that it is developing a technology of spraying the LED chips. A senior official at Samsung Electronics explained, "We are raising the yield with the goal of providing products at affordable prices in 2 to 3 years." For 110-inch products currently on sale, the price per unit reaches 170 million won.
The development of QD (Quantum Dot) OLED TVs is also expected to accelerate. President Jong-hee Han said, "I recently received a sample of the QD OLED panel. Our business division is reviewing it." It is reported that Samsung Display produced a prototype of QD OLED at the end of last year.
By Global Economic Reporter Hyeon-joo Han