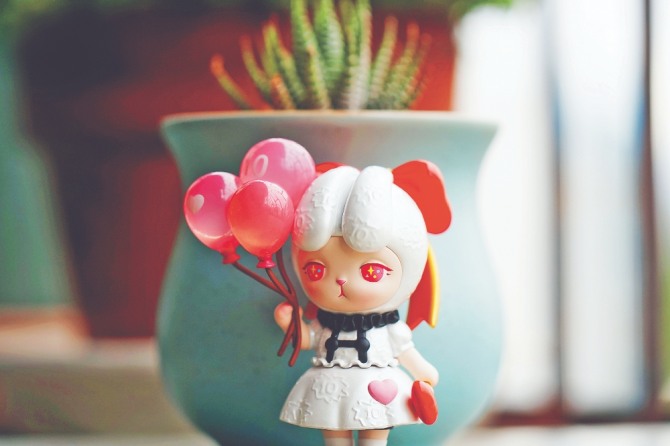 AFTER paying 59 yuan (US$9.04) to try your luck at the self-service robot shop of the Pop Mart International Group, you can sometimes be blessed by the goddess of luck when you find a golden identity card attached to the mystery box, which indicates a secret toy which only comes from one out of 144 of the regular figurines.
The one-in-144 secret toy may be sold at a price of more than 10 to 15 times its 59-yuan retail price on some e-commerce and second-hand trading platforms.
For instance, the secret toy "Astrologer" of Pop Mart's "Dimoo World" zodiac series, a character designed by Chinese artist Ayan Deng that depicts a lonely, introverted little boy seeking friendship in the fantasy world, sold at a price of 688 yuan in a Taobao shop.
An anonymous Pop Mart fan told the Shenzhen Daily that she spends an average of about 2,000 yuan on collecting mystery boxes each year and is prone to buy full boxes, each containing 12 figurines, for a better chance at getting a secret one.
Another fan of Pop Mart's rabbit-like monster character "Labubu" stated that she would like to collect all the Labubu mystery toys and is more likely to buy full boxes when a collection she likes is released. She also sells her surplus toys on second-hand trading platforms such as Xianyu.
Their stories are not exceptions. Pop Mart fosters a large and potential second-hand market due to its no-refund policy. Many collectors choose the WeChat miniprogram "Designer Toy Clan" (
潮玩族
) to sell their surplus Pop Mart toys. The miniprogram has become a current popular platform for the exchange and trading of mainstream designer toy brands.
However, some veteran fans from the Pop Mart community look down upon the newbies who only collects mystery boxes, claiming that the limited-edition figurines and large vinyl figures are more collectable, and those who want to get more involved in the community should start to collect the large toys through participating in lucky draws, going to the annual toy shows and even buying second hands at higher prices.
A vinyl figure named "Red Queen" from Pop Mart's "Skullpanda" collection sold for 50,000 yuan on the "Designer Toy Clan" platform. The limited-edition figure was exclusively released at the Shanghai Toy Show priced at 898 yuan each.
The case is quite similar when it comes to the hype of BE@RBRICK,a collectible toy designed and produced by the Japanese-based MediCom Toy company. Founded in 1996, the company has taken the lead in the development of toy collecting and infused more artistic elements into the basic entertaining functions of toys.
BE@RBRICK has three major prototypes including bear, rabbit and cat, six sizes ranging from 3.5cm to 70cm, and utilizes different motifs contributed by animations, artworks and industrial and fashion designers.
A 70cm BE@RBRICK figurine collaboratively designed by artists Hajime Sorayama and Daniel Arsham sold at a price of 110,000 yuan on the domestic online trading platform "Poizon," which is 15 times more than its 8,800-yuan retail price.
According to Coco (pseudonym), a veteran fan of the puppy character "Cinnamonroll" produced since 2006 by the Japanese toy company Sanrio Originals, the price hyping phenomenon is also common in the Sanrio community.
"A 'Cinnamonroll' ball pen I bought for about 60 yuan in 2016 was sold for 800 yuan by some agents," said Coco. "I found that young people who are interested in the Japanese otaku culture, especially the teenagers, is one of the major forces in buying those out-of-production goods at high prices, for they have a considerable amount of disposable income and pocket money and find it hard to resist the temptation of buying when they see some bloggers uploading their Sanrio collections on social media platforms."
No matter how strong the temptation, some reasonable consumers still remain. "I will take a glance at all the mystery toys in the collection and if I see that one of them is ugly or weird, I will give up buying the whole collection. By the way, I take more pleasure in unpacking the mystery toys rather than getting the ones I want," said an interviewee under the pseudonym Akira.
By Shenzhen Daily reporter Wang Haolan