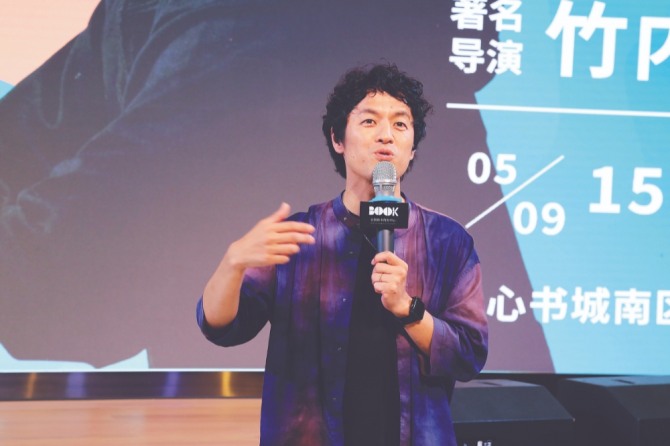 NANJING-BASED Japanese documentary director Ryo Takeuchi, who is renowned for his hit documentary series "Nanjing's Anti-epidemic Scene" and "Long Time No See, Wuhan," gave a talk and signed autographs for his new book "The Reasons I Live Here" at Shenzhen Book City CBD Store in Futian District on Sunday.
The activity was one of the three events held over the weekend mainly organized by the National Book Release Center and Shenzhen Publishing Group.
Published by Joint Publishing (H.K.), the book is based on Takeuchi's long-running documentary series with the same title which depicts stories of Chinese people living in Japan and foreigners living in China and it contains detailed stories of 20 Japanese living in China in the documentary. Before the pandemic broke out, many in China have already known the documentary series.
Regarding the reason for choosing Shenzhen for the book premiere, Takeuchi said, "Shenzhen is a city of 'dreamers' from all over the world, and everyone has a reason to live in the city, so it fits well with the theme of the book."
Takeuchi thought that the book's content goes beyond the documentary and provides a very different experience from watching a documentary. "Documentaries are intuitive and will constantly give you excitement, leaving little room for reflection, but when you read this book, you can take your time to savor it and think about your own life while reading.
"If I recommend one Chinese city to my Japanese friends, I think it would be Shenzhen," he said.
Takeuchi said that Shenzhen's label of "China's Silicon Valley" has been spread to Japan for a long time: high-tech elements often become a hit on Japanese networks. Also, many young Japanese people have chosen to come to the city to start their businesses. He said that he will always pay attention to the development of Shenzhen because the changes in the city reflect the changes in China.
In fact, Takeuchi has been to Shenzhen every month recently to make a documentary entitled "Faces of HUAWEI" by filming 100 company employees. He said he hopes to dispel some misconceptions about Huawei through this documentary.
By Shenzhen Daily reporter Lin Songtao