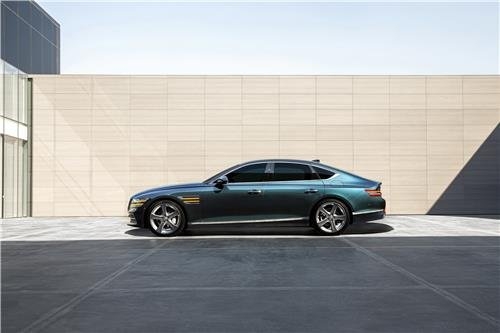 Genesis G80 received the highest safety rating by the American The Insurance Institute for Highway Safety (IIHS).
According to Genesis on Wednesday, the G80 received a Top Safety Pick+ rating, which is given to the safest vehicles as a result of a crash evaluation, recently announced by IIHS.
For the G80, the second-generation (DH) model that first entered the U.S. in 2016 received the Top Safety Pick Plus rating, and this time, the third-generation model (The All-New G80), which was launched in the U.S. market in the second half of last year, was evaluated for the first time.
IIHS, a non-profit organization established in 1959, comprehensively evaluates the collision safety performance and collision prevention performance of hundreds of vehicles released every year, and gives the vehicle that shows the highest safety the Top Safety Pick Plus rating.
In order to receive the Top Safety Pick Plus rating, all six collision safety items, including front impact, side impact, roof stiffness, and head restraints, must receive highest ratings ("good").
In the G80 model, there is front collision avoidance assistance that prevents accidents through braking in the event of a collision with a vehicle in front, pedestrians, or bicycles in advance, and rear collision that prevention that detects, warns and brakes when vehicles are approaching from the rear while driving.
10 airbags, including the front left center side airbag, were also installed to prevent secondary collision in the event of a side collision.
The entire Genesis lineup, including the G70, G80, G90, and GV80, currently sold in the U.S., has earned the Top Safety Pick Plus rating, and has achieved the highest safety rating for the third consecutive year since the completion of the sedan lineup, Genesis reported.
Earlier this year, the 2021 G70 sports sedan and the G90 flagship sedan in February this year, and in March, the GV80, a vehicle that was in Tiger Woods', the "The Emperor of Golf", accident, received this rating.
"Customers are at the core of everything we do, and safety is our top priority," said Mark Del Rosso, CEO of Genesis North America.
By Global Economic Reporter Hyunsoo Kim