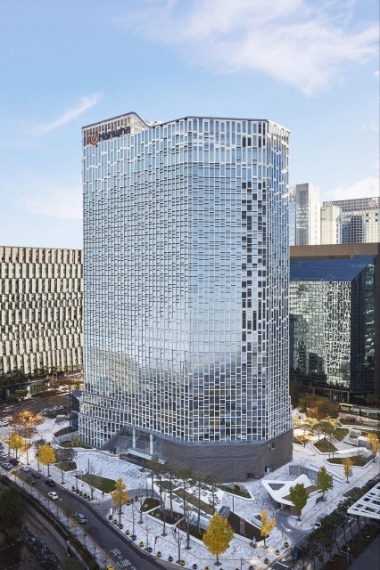 Hanwha is pushing for semiconductor equipment business for the first time among major companies in Korea. With the prediction that semiconductor companies will expand a lot in the future, the prospect is expected to be good with the wide introduction of semiconductor equipment.
According to the industry on the 7th, Hanwha has organizations related semiconductor equipment to expand its business. It is also known that Hanwha is currently hiring professionals of semiconductor equipment.
In particular, it is reported that Hanwha is preparing for equipment business related to the deposition of semiconductor equipment manufacturing. Deposition is the essential process for semiconductor chip that creates layers on the semiconductor wafer not to affect each other, even if several wafers are stacked.
This project has been pushed by Hanwha, which is operating the machinery business, when it decided that it could use the technology it has developed while winning orders for facilities for semiconductor equipment.
In particular, Hanwha/Global is already producing nitric acid used for semiconductor deposition and cleaning, so the synergy effect is also expected. Hanwha Precision Machinery, a subsidiary of Hanwha's affiliate Hanwha Aerospace, is also researching and developing specialized industrial equipment such as semiconductors.
After the global semiconductor shortage, the companies are recently increasing the investments in semiconductors manufacturing. Due to this, semiconductor's 'super cycle' is highly expected, so it is predicted that Hanwha's semiconductor equipment business will also have a bright prospect.
Actually global semiconductor companies are investing on an epic scale, such as Taiwanese company TSMC saying it will invest $100 billion (about 111 trillion KRW) over the next three years and Samsung Electronics saying it will invest 171 trillion KRW by 2030. Industries predict that the introduction of related equipment will increase rapidly while companies build the semiconductor factories on a large scale.
In particular, the semiconductor industry has a large 'Lock-in effect' with customers, so the company value can be significantly higher if it develops equipment with superior technology than other companies. U.S. company Applied Materials (AMAT), which has the world's best technology for the deposition process, has $127 billion (about 141 trillion KRW) market capitalization. It is much higher than the companies which produce semiconductor directly such as SK Hynix (94 trillion KRW) or Micron Technology($94.6 billion, 105 trillion KRW).
Hanwha Solution CEO Kim Dong-kwan, the eldest son of Hanwha group chairman Kim Seoung Yeon, is also reportedly interested and participated in this project. Currently CEO Kim is also serving as head of Hanwha's Head of Strategy Division.
By Global Economic Reporter Hyun-Ju Han