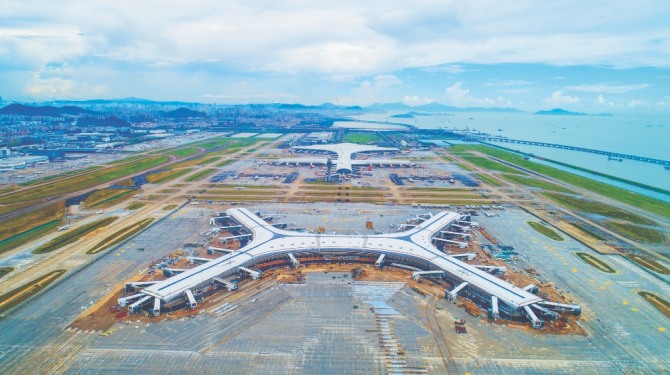 THE satellite hall at Shenzhen Bao'an International Airport and its supporting facilities have passed the prerequisite checks, which means they will be on schedule to begin operations by the end of this year, the airport said Tuesday.
The satellite hall now is in its final push towards full operation and working on interior decoration and system testing. In the coming months, the aprons, information system, luggage system and transit system will all also go through the prerequisite checks.
The hall, a key project for the airport's expansion that took two and a half years to complete, when in operation, will bring an additional 22 million passengers per year to the airport's total capacity.
Located between T3 and the runways, the hall will be connected to T3 and the future T4 through an underground fast transit system, with a trip between T3 and the satellite hall expected to take about three minutes.
The satellite hall, with 53 boarding bridges, is part of the 230,000-square-meter X-shaped project, which also includes auxiliary projects and a fuel supply project.
According to the design, the satellite hall will only provide boarding, arrivals and transfer services. Passengers will still need to complete check-in, luggage consignment and claim, and security checks at T3.
The future transit system will include three stops that connect to T3, the satellite hall and the future T4.
The trains will depart at intervals of two to five minutes. T4 and the third runway will be built on 420 hectares of land, an equivalent to 588 standard soccer pitches, that has been reclaimed from the sea.
Passengers going through the airport reached 52.9 million at the end of 2019, ranking it 26th among world airports, according to the airport.
By Shenzhen Daily reporter Han Ximin