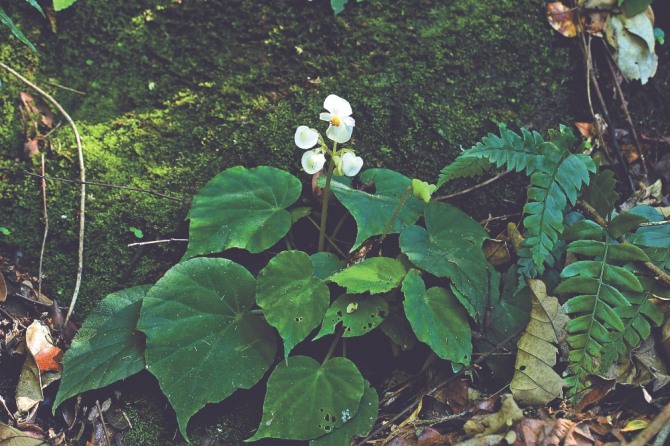 BEGONIA shenzhenensis D. K. Tian & X. Yun Wang, the scientific name of a new local species, was officially released Saturday, World Environment Day. It is the eighth plant species named after Shenzhen.
Shenzhen begonia, the plant's common name, was discovered by Wang Xiaoyun, a Shenzhen veteran plant enthusiast. He posted this official announcement on his Weibo account Saturday afternoon.
Wang is one of the plant discoverers who have recorded almost 100 plant species in the city. He played a role in publishing a book titled, "Shenzhen Wild Orchids" and participated in a study of the Orchidaceae in Shenzhen.
Wang was honored as the Shenzhen Nature Ambassador in the 2021 World Forest Day Promotion Month, which was held by the Shenzhen Municipal Planning and Natural Resources Bureau in March.
Wang told a reporter with Shenzhen Evening News that the date he discovered Shenzhen begonia was Nov. 17, 2018.
"Actually, we didn't realize it was a new species three years ago. We were in a hurry and mistakenly took the plant to be a common begonia. I paid more attention to the plant Sept. 21, 2019. A careful observation of its flowers and capsules made me realize it might be a new species. As Hong Kong borders Shenzhen, I was wondering if the plant had been recorded in Hong Kong. I sent pictures of the begonia to two experts in Hong Kong and the mainland, who both replied that they hadn't seen this kind of plant before and confirmed it as a new species."
Tian Daike, a plant expert specialized in begonia, made a trip to Shenzhen in June last year. As 2020 marked the 40th anniversary of Shenzhen's reform and opening up, Tian and Wang decided to name the new species Begonia shenzhenensis.
"Tian put my name, X. Yun Wang, in the scientific name of Shenzhen begonia to recognize my contribution, which was very touching," Wang said.
Among the eight new local plant species, two of them were discovered by Wang. He calls on Shenzhen citizens to work to protect the ecological environment.  
By Shenzhen Daily reporter Xia Yuanjie