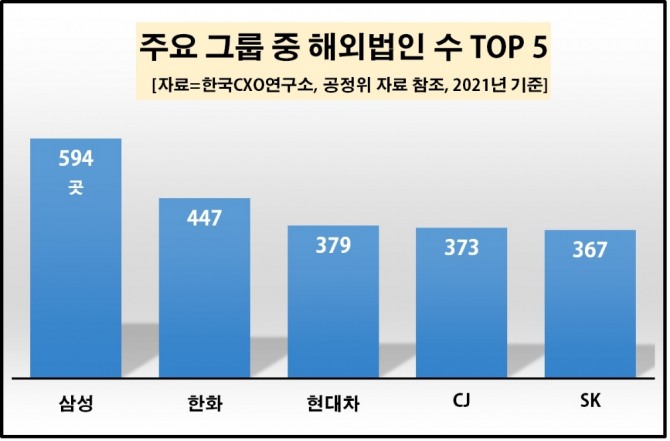 It is researched that there are about 4,700 overseas branches run by 71 companies.
According to Korea CXO Institute on the 8th, a total of 4,703 overseas branches are operated by 71 major companies, which are selected that have assets of more than 5 trillion won this year by the Korea Fair Trade Commission (KFTC).
Among them, Samsung has the most with 594 branches. Hanwha (447), Hyundai Motor (379), CJ (373), SK (367), LG (360) and Lotte (220) are following.
For countries, there are the most branches in the U.S with 885 branches (18.8%). Hanwha operates 154 branches in the U.S. SK has 78, Samsung has 77 and Hyundai Motor has 74 branches in the U.S.
There are 874 overseas branches in China (18.6%), following the U.S. SK operates 92 branches in China, LG has 80, Hyundai Motor has 73 and Samsung has 72 branches.
Following China, Vietnam (238), Japan (194) and Singapore (167) had the largest number of overseas branches.
24 overseas branches also exist in Myanmar, where recent military coups have led to bloodshed. POSCO and CJ have 5 branches each, and SK, Lotte, NH, LS and Harim have 2 branches each.
In addition, Korea CXO Institute explained that there are 121 branches being operated in the tax havens such as Virgin Islands, Panama and Marshall Islands, and also there are 641 branches in the countries considered as the tax haven including Singapore and Malaysia.
by Global Economic Reporter Hyun-Ju Han