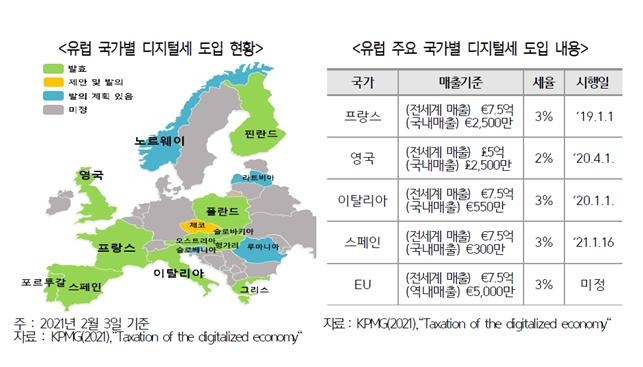 Korean business community sent the letter of opinion saying "Please consider the digital tax carefully," to OECD.
According to the Federation of Korean Industries (FKI) announced on the 9th that it sent the letter of opinion as the representative of the Korean business community, suggesting 'Minimize digital taxation', 'Application of the global minimum tax rate', and 'Granting a grace period before implementing this system' to a chairman of BIAC, Charles R. Johnston, on the 8th.
BIAC is an independent advisory organization established to hear the private business community's opinions in the OECD's policy-making process, and FKI, the U.S Chamber of Commerce and Japan Business Federation have been participated as member.
Recently, it has been argued for expanding objects of digital taxation and raising the global minimum tax rate in many countries, mainly the U.S. It is because that multinational companies like Google and Facebook, which can provide services to countries without a fixed business office, were criticized for its not transparent business disclosure of sales earnings, which was made in serviced countries, to avoid taxes.
G7 agreed on the 5th to set a global business tax rate limit of 15%. This agreement is predicted that G20 will confirm when a final agreement is made at the 'BEPS Inclusive Framework(IF)' held by OECD.
FKI explained that Digital Taxes is to prevent avoiding tax of global digital companies. "Expanding objects of digital taxation and raising the global minimum tax rate limit a lot are not only against its purpose, but it can also reduce even normal business activities," said FKI.
FKI warned that if businesses with more than $20 billion in sales are taxed as the U.S. claims, 4.7 trillion won, the 8.5% of the annual domestic business tax, will be affected by digital taxes and some of these can be leaked to overseas.
By Global Economic Reporter Hyun-Ju Han