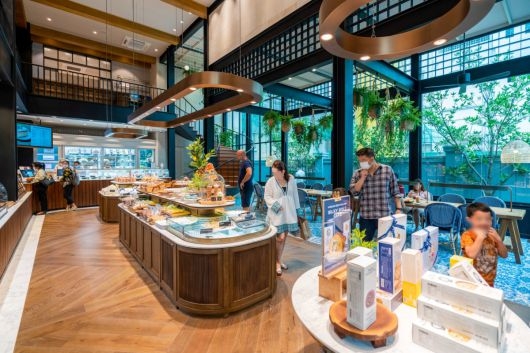 Paris Baguette of SPC group opens a branch in Cambodia and is speeding up for Southeast Asia markets. Paris Baguette already have its overseas branches in China, the U.S., Singapore and now it is aiming to be a global brand.
Paris Baguette announced on the 9th that it has opened the first Cambodian branch, 'Boeng Keng Kang branch', in the capital city, Phnom Penh with its local partner HSC group. Cambodia is the sixth country that Paris Baguette has opened the overseas branches, and Paris Baguette tried to localize its brand for Cambodian market. Considering Cambodian's family culture, it has designed its concepts as a café and launched Brunch menus.
Paris Baguette sees the opening of its Cambodian branch as a sign of expanding to Southeast Asian market. It means that SCP group is considering Southeast Asian market as the 3rd hub of global expansion following G2 countries, including the U.S. and China.
The core global strategy is 'Localization.' Paris Baguette has recently signed on the agreement to construct halal-certified manufacturing factories with Malaysia's senior minister who recently visited Korea. Paris Baguette is also planning to enter Indonesian market, which is the biggest market in Southeast Asia, for its global business expansion and is considering setting up its business in Middle East market too.
Further, it will push for constructing global manufacturing factories in Malaysia, and will find opportunities to expand SPC Samlip business in local market and outsource the raw materials of SPC GFS. Also, it will make Malaysia as the hub for strengthening its halal business.
"I am very happy to introduce the global brand Paris Baguette to Cambodia," said General Manager Sok Chen, who is charged in Cambodia business. "We will make Paris Baguette into the best brand in Cambodia with its superior products and brand image."
Paris Baguette' global business continues to grow up. There were 400 overseas branches Paris Baguette operated, but increased to 413 branches last year. There are 6 countries including Cambodia, China, the U.S., Vietnam, Singapore, and France where Paris Baguette is operating overseas branches.
In particular, it is highly popular in China. The number of Paris Baguette's branches in China is currently 308 stores, and recorded sales revenue of 230 billion won last year. It is the highest sales revenue among those 6 countries. SPC Group predicts that it will be able to turn into a surplus this year, as the sales performance has improved since the second half of last year.
Along with the localization strategy, the 'luxury' strategy is also one of the reasons for Paris Baguette's global success. In the early days of entering overseas markets, Paris Baguette differentiated itself as a premium brand, and targeted customers who have high purchasing power. After then, Paris Baguette has gained brand recognition through consumer-friendly events and hands-on marketing. This is why the U.S. online communities say joke, "The best delicious bakery in the U.S. is the Paris' Baguette."
Paris Baguette is planning to speed up its expansion business with grand open of new branch in Canada in this year. A SCP officer said, "The company has shared the vision that it will become the 'Great Food Company', and will increase the global business up 50% by 2030 and achieve sales revenue of 20 trillion won, 20,000 branches in the world."
by Global Economic Reporter Min-ji Son