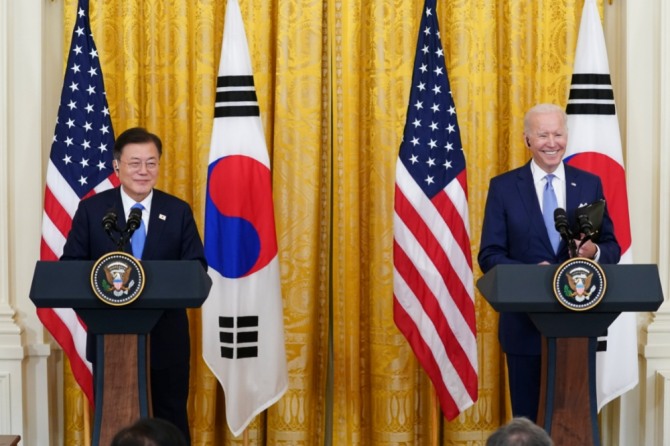 The Blue House, Cheongwadae, announced on the 10th that the 'Korea-U.S Vaccine Partnership Experts Group' has launched to expand vaccine manufacturing and vaccination.
Korea and the U.S. held the first meeting of the expert group on the 9th, and had a talk about vaccine manufacturing and R&D in the video conference.
Earlier, President Moon Jae-in and the U.S. President Joe Biden have signed 'Korea-U.S Vaccine Partnership' at the Korea-U.S Summit on the 21th of last month, and have agreed to launch the experts group.
In this follow-up meeting, main topics including manufacturing vaccine, expanding raw and subsidiary materials, R&D, and further plans were discussed.
In addition, two countries have agreed to hold a meeting of 'Korea-U.S. Vaccine Partnership Experts group' regularly, and create the roadmap to discuss further tasks.
Korea and the U.S. have decided that they will run 'Korea-U.S. Vaccine Partnership Experts group', inspect the results regularly and discuss ways to operate the group.
In the meeting, 12 the U.S. participants were joined including the Special Secretary of Global Health Security Assistant of the white house, the U.S. officials of NSC, Office of Science and Technology Policy, Department of State Coronavirus, Ministry of Health, and Development and Finance Corporation (DFC).
13 Korean officials participated, including the Secretary of New Southern/New Northern Policy, Secretary of Foreign Policy, Director General for Quarantine Planning, the Ministry of Health, the Ministry of Science and ICT, the Ministry of Economy and Finance, the Ministry of Trade, Industry and Energy, the Ministry of Food and Drug Safety, Korea Centers for Disease Control, and Prevention and National Institute of Health.
By Global Economic Reporter Ha-Rin Lee