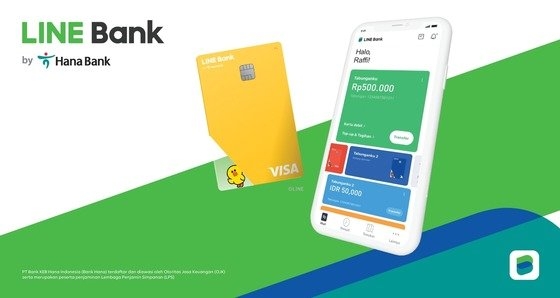 Hana Finance and global mobile platform LINE's Indonesian branch have launched the digital banking service 'LINE Bank'.
It is the first time that Korean bank launched overseas financial service by cooperating with big tech company.
Hana Finance announced on the 11th that LINE Bank has begun its service in Indonesia. LINE Bank provides the services including account open through the e-KYC, fixed time deposit, debit card, cardless withdraw and bill payment.
Previously, LINE, which is the subsidiary of Naver, acquired a 20% stake of Hana Bank Indonesian branch for LINE Bank, and has signed a strategic cooperation agreement with Hana Bank in October 2018. After that, two companies established a department, which consists of financial and platform business professionals of two companies and digital professionals hired in Indonesia, and had prepared the service.
Follow the guideline of local financial authorities, LINE Bank starts deposit service first, and will expand its service to loan and loan-related services.
LINE Financial Asia COO Kim Young Eun said, "Due to the geographical features, Indonesia is greatly expected to be improved in service availability and convenience through the digital banking platforms."
Hana Finance is planning to expand its business focusing on local market with LINE's brand power and its digital business experiences. Also, it aims to provide locally-focused financial services and differentiated customer experiences.
Before launching service, it promoted LINE pre-register event for LINE users from May 31 to June 9.
The Global Economic Reporter Sang-ill Baek