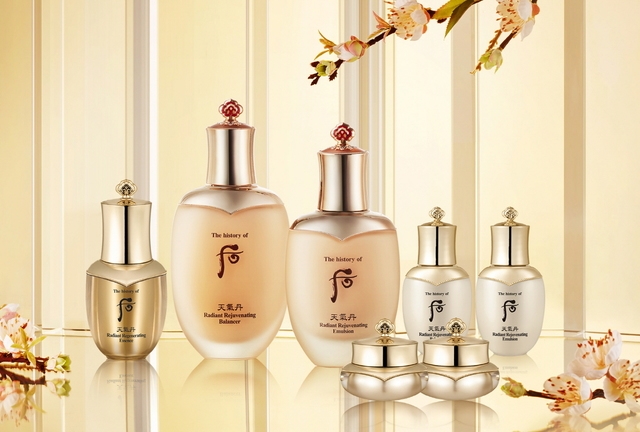 Korean cosmetics company showed its 'K-beauty' power at the '6·18 Shopping Festival', which is the biggest online festival in China in the first half of year. Consumption demands in China are rapidly recovering as COVID-19 vaccination has been expanded. Korean cosmetic brands had a huge impact due to the COVID-19 last year, but it showed its popularity again at the Chinese biggest online shopping festival and raised expectations for sales increase in the second half of this year.
According to the LG Household & Health Care on the 22nd, its 6 luxury cosmetic brands including Whoo, Sum, Ohui, Belief, VDL, and CNP recorded sales performance worth of 5.08 million yuan (about 89.3 billion won) at 6·18 Shopping Festival of Tmall, which was held from 1st to 20th this month. It increased by 70% year-on-year.
The sales of Whoo increased by 72% year-on-year. It was ranked 5th in luxury cosmetic brands list following Estée Lauder, Lancome, La mer and Shiseido. In particular, Whoo's 'Cheongidan hwa hyun' set ranked No.1 in Tmall's cosmetic category. It ranked 3rd in all categories after 'iPhone 12' and 'Gree Air Conditioner' based on sales of single products. In addition, sales of cosmetic brands increased by 90% for Sum, 55% for Ohui, 57% for CNP, 68% for Belief, and 209% for VDL.
The sales of Amore Pacific's luxury cosmetics brand 'Sulhwasoo' increased by about 25% compared to the precvious year on all channels. The product line of Sulhwasoo, 'Jaumsaeng', recorded double-digit growth rate. LANEIGE and Mamonde's sales increased by 50% and by 25%, respectively. It raised its sales by streaming commerce live with Chinese influencer Wang Hong.
Aekyung Industrial grew 25% year-on-year at global Aekyung flagship store of Tmall. The most popular product is 'AGE 20's Essence Cover Pact'. It was sold total 225,000 products. It ranked No.1 in sales in BB cream category of Tmall Global Store. AGE 20's 6.18 special set jointly produced by Wang Hong Viya was sold 25,000 sets in pre-booking period.
Dr.Jart acquired by French cosmetic brand Estée Lauder recorded its best sales. The sales of Dr.Jart increased by 57% to 120 million won (about 21 billion won) and it is the highest sales record ever. It surpassed its total sales of 6·18 Shopping Festival in last year in a day. It ranked 8th in sales ranking in beauty brand category during pre-booking period for 8 days from 24th to 31st of last month.
Mainly including facial masks, skin care products had strong sales. As the single product, 'Dr.Jart The Mask Waterjet Vital Hydra Solution' had the highest sales record. It increased by 73% compared to the previous year. It attracted global customer's interests by cooperating with Jackson of GOT7, which is the ambassador of Dr.Jart's APAC mask.
By Global Economic Reporter Hee Jin Yeon