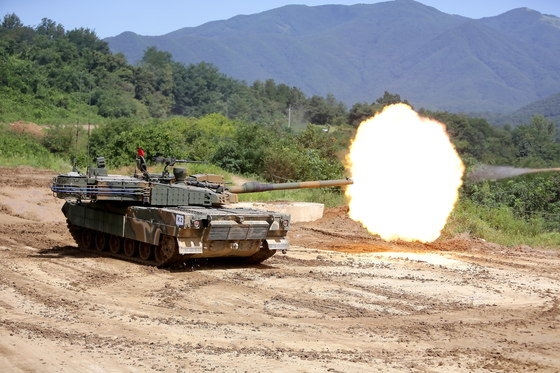 Hyundai Rotem is planning to bid for India army's next-generation tanks order with its follow-up model of 'K2 Black Panther' tank.
The Indian Army's Future Combat Vehicle (FRCV) project is to procure 1,770 next-generation tanks and will worth of 20 trillion won.
According to the industries on the 23rd, Hyundai Rotem has checked a request for FRCV project information of officially proposed by the India army, and positively considered the bid.
India is planning to select a partner and sign a contract by 2025, and it is expected to announce the bid next year. Due date of application period for the request for information is September 15th.
The request for information is a document that requires providing information to understand approximate technological competitiveness of suppliers.
The FRCV project is aimed at replacing 2,400 old T-72 tanks, and it is also planned to develop and produce derivative models using bodies of new tanks. Considering that the price per unit of K2 Black Panther is around 10 billion won, it is a huge project that is worth a total of 20 trillion won.
Due to its huge-scale project, many companies have been interested in, but it is expected that the number of companies which will participated in bidding is not so large. It is because the India army put in conditions that are hard to be accepted, including mobility, firepower, protecting power, tactical command automation system and technology transfer.
For example, mobility requires the 3.5th generation tank level of developed country's models, and protecting power requires higher performance than M1A2 of the U.S. Army.
In particular, it requires technology transfer for local production by cooperating with local companies, therefore it is expected that famous global defense companies such as KMW and Rheinmetall in Germany, BAE Systems in U.K. and General Dynamics in the U.S.A. will not participate in bidding.
However, Hyundai Rotem is positive in local production and technology transfer, so India army's requirement can be an opportunity. Hyundai Rotem believes that localization strategy to contribute local communities is important as well as product performance to win the contract.
By Global Economic Reporter Ji-wan Nam