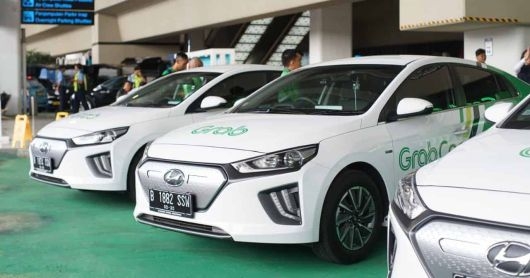 Hyundai Motor will work together with 'Grab', which is called 'Uber' in Southeast Asia to promote electric vehicle conversion. It is analyzed that it is the strategy to expand and discover new electric vehicles businesses including Smart City Solution project, based on Chairman Chung Eui-sun's innovation plans that has decided to invest in growth potential in 2018.
Hyundai Motor announced on the 23rd that it will strengthen the strategic partnership of mobility service with 'Grab.'
The main challenge is to accelerate the use of EV (Electric Vehicle) in Southeast Asia. It is planning to introduce Hyundai and Kia's EV models to Grab for popularizing EVs and also focus on developing an electric vehicle road map based on a shared economy. Grab recently announced these future strategies in an ESG (Environmental, Social, and Governance) report.
Grab is the car-hailing company established in 2012. It provides the service in more than 168 cities of 8 countries in Southeast Asia. Market share of service reaches nearly 75%. It introduced 'EV Mobility Service' as its first project of the Indonesia plant investment agreement announced in 2019, and has increased the number of EV cars such as 'Ioniq Electric' and 'Kona EV.'
Through the partnership, Hyundai Motor and Grab will run a pilot program that based on new businesses such as renting new electric vehicles and financial support. They previously provided car hailing service of EVs, but failed due to the lack of infrastructure in 2019.
According to the research of Grab, Grab drivers are reluctant to use electric vehicles due to inconvenience in charging. There was also a barrier to popularization of electric vehicles that there are no electric vehicle sales in Southeast Asia except for the vehicles introduced by Grab.
In response, Hyundai Motor Group and Grab are planning to start the pilot program for popularizing electric vehicles in Singapore first in this year, and will expand to Indonesia and Vietnam. As part of development of road map, it is also planning to conduct feasibility study for electric vehicles again. This is to find practical alternatives to sell special electric vehicles rather than the electric cars based on internal combustion engines. Also, improvements of infrastructure are also pointed out as important challenges including fees and waiting time, services and charging infrastructure.
In addition, it accords with the eco-friendly policies of the Singapore, Indonesia and Vietnam governments. The synergy effect with Hyundai Motor Group Innovation Center in Singapore (HMGICS) is also expected as well as improvement of Hyundai and Kia's brand image by sharing ideas and best practices related to infrastructure expansion.
Hyundai's EV models which are operated by Grab will be used in the pilot program. 200 Hyundai Kona EVs provide service at airport and downtown in Singapore, and Ioniq Electric models are serviced at Jakarta airport in Indonesia.
By Global Economic Reporter Jung Hee Kim