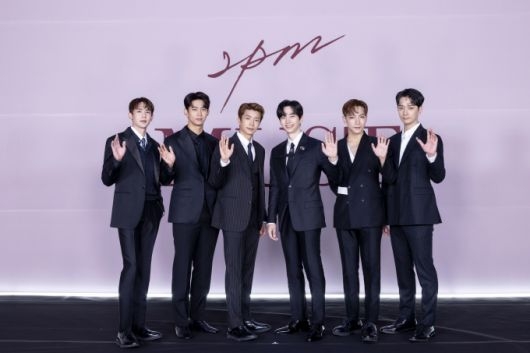 K-pop group 2PM said that they joyfully prepared the comeback with the climbing back up the chart of 'My House.'
2PM held a press conference to announce the release of its seventh full-length album "MUST" on the afternoon of the 28th, and expressed their feelings about the comeback with the all members.
The six members of 2PM made a comeback in about five years after finishing Junho's military break in March 2021. "5 years has been a long time, but preparing for the comeback makes us to feel comfortable and great nervous as if we had a concert yesterday," said 2PM members. "We promised to come back at the concert in 2017. We said, 'we will definitely come back, after the military service, and then we will meet you again,' and now we are happy to be able to keep the promise."
'My House,' which is the song features 2PM's sexy charm, was loved as a 'great comeback song (Great songs that should make a comeback).'
JUN. K said, "Last year 'My House' was unexpectedly loved. As soon as I was discharged from the military, I heard that 'My house' was very popular. I'm so happy that 'My House', released in 2015, was loved so much after 5 years."
"Since the concept image of 'My House' is very popular, we think a lot how to fill the sexy image.
We worked hard to prepare for it," he added.
"It was just great, fans loved and shared the video, and said 'whose house they should go.' Fans can choose anyone. I appreciate a lot. Thanks to the love of 'My House' during the military break, we can prepare the new song 'Make it' more comfortably," said Jun-ho, who contributed most on the 'My House' chart climbing.
When asked about the popularity of "My House," Chansung said, "It's a miracle. It is not what we intend. If it happened at the time we were having concerts, we could have responded better."
"The situation where we had to have performances for only a week seems to be a reason for climbing back on charts now," Junho said. "I'm embarrassed but happy."
Taecyeon added, "It was because of the YouTube's algorithm. As technology was developed while I was in the military, so we were able to show the hidden side of us and make the base to come back again."
The new album 'MUST' was made with the aim of 'a must-listen album' as like its title, and all members participated actively in the overall works. Starting with JUN.K, who was the main composer and writer of 'My house', Wooyoung and Taecyeon are also listed in credits of 7 out of 10 songs to show their much grown music quality. The album contains not only 'K-sexy' image that only 2PM can have, but also romantic and lyrical atmosphere.
Title song 'Make it' that Wooyoung participated in composing and writing started from his question, 'If the love comes again, how I can say? If our comeback is for now, how we can prepare?,' and interpreted the theme 'facing with irresistible attraction, things that you want to do and must do' in the addictive melody. In response to the image that many people want from 2PM, the new album concept is gentle but deadly attractive.
By Global Economic Reporter Ki Dong On