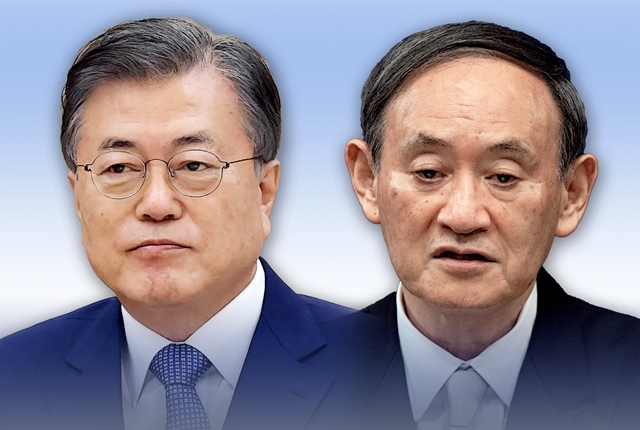 While diplomatic authorities between South Korea and Japan are negotiating for the summit, President Moon reconsiders his visit to Japan as Japan's sovereignty claim over Dokdo has emerged again.
The opening ceremony of the Tokyo Olympics is less than 10 days away, however, it is uncertain whether President Moon will attend. There are some predictions that Japan is going to intentionally break the negotiations through the sovereignty claim over 'Dokdo', instead of changing the mind to forward-looking attitude on Korea-Japan summit.
Minister of Defense in Japan, Nobuo Kishi, reported '2021 DEFENSE OF JAPAN' annual white paper at a cabinet meeting on the 13th. In the paper, Japan said, "Japanese territory, Takeshima (Dokdo), still unsolved territorial dispute."
Japan has continued to claim to sovereignty over Dokdo for 17 years since Japan Shimane prefecture reported the same content in the defense white paper in 2005. Furthermore, Tokyo Olympics official website marked Dokdo as its territory.
Even more, the organizing committee of the Tokyo Olympics and Paralympics allowed the use of the Rising Sun Flag, a symbol of Japanese militarism. It is very contrasting that Korea national soccer team Park Jing-woo could be deprived his bronze medal for violation of political neutrality that he held picket signs saying 'Dokdo is our land' as a victory ceremony of third place playoff at London Olympic nine years ago. .
The bigger problem is that the white paper says the Korea-Japan conflicts including Korean Navy's investigation of patrol aircraft fire-control radar of Japan Self-Defense Forces and termination of Korean-Japan GSOMIA (General Security Of Military Information Agreement) are the responsibility of Korea. As the contents of the defense white paper has been publicized and became an issue 10 days before Tokyo Olympics, it has become a difficult atmosphere to hold the summit.
Therefore, there are some opinions that the diplomatic authorities of Korea and Japan are looking for a justification to blame each other for the failure of the summit. In other words, they are considering an exit strategy to minimize the diplomatic burden that follows the failure of the summit
Park Soo-hyun, Blue House Head of Communications, previously said in an interview with MBN 'Baek Woon-ki's Newswide' that President Moon's visit to Japan can be canceled depending on the result of Korea-Japan summit negotiations.
Park's interview can be interpreted as a sign that Korea can break the negotiations first as, it is difficult to come to an agreement in negotiations between diplomatic authorities.
By Global Economic Reporter Tae Jun Lee