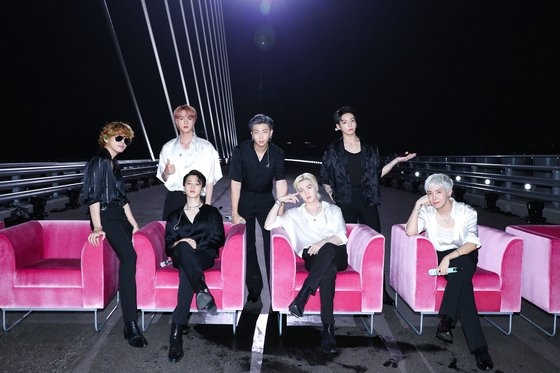 K-pop super group BTS performed on the ending stage of the popular U.S. TV talk show, 'The Tonight Show Starring Jimmy Fallon', for two consecutive days.
BTS performed the global hit summer song 'Butter' at the Jimmy Fallon Show on the 15th. They performed on the ending stage for 2 consecutive days following the performance of their new song 'Permission to Dance' the previous day.
The performance of 'Butter' on the bridge caught the eye of viewers. BTS appeared on the huge bridge instead of a stage and showed a fascinating performance. BTS's seven members sang 'Butter' while walking on the bridge, and completed the amazing performance with unit dance and choreography showing their teamwork. BTS also showed the beautiful night view of the Han River to the world through a performance on the bridge with wonderful lights.
BTS also performed 'Permission To Dance' on the indoor stage full of purple balloons the previous day and gave happy energy. In the 'Butter' performance, they showed fantastic atmosphere through the large outdoor stage.
BTS's 'Permission To Dance' performance using international sign languages gave good vibes and lively energy to viewers and received enthusiastic responses from the world.
By Global Economic Reporter Ki Dong On