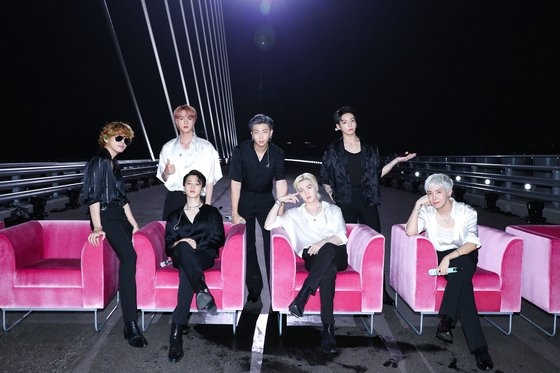 A Colombian radio program has been under fire for making racist and disparaging jokes about K-pop group BTS and fake apology, and mocking them.
According to BTS Colombian fan club's social media and local media on the 18th, the controversial radio broadcast was 'El Mananero' on the La Mega channel on the 9th.
DJ Alejandro Villalobos referred to BTS as 'that Chinese (esos chinos)' while playing BTS' song 'Permission To Dance', which was requested by listener.
He said, "I got the impression that they put a lot of money in the song. They topped the charts and went Grammy Awards by spending money. But they were awarded nothing even they wasted a lot of money."
He also said that it would be the Korean Embassy who requested the BTS' song.
BTS's Colombian fans got angry at DJ's racist and disparaging speaking.
The fans issued a statement demanding an official apology from the broadcast station.
However, the 'apology' released by the broadcast station increased the anger of fans.
On the 13th, the DJ said, "We don't have to apologize, but if our expression was a little strong, we should officially apologize for that part in Korean."
The radio program played the Korean national anthem and read meaningless sentences related to Latin American food empanada and tamal in Korean. It is absolutely not the 'apology'.
According to a video posted by BTS fans, the DJ was wearing a 'Dragon Ball' wig and a T-shirt with a Rising Sun Flag at the time of the broadcast on the 13th.
The controversy has grown more and more, numerous Colombian and overseas BTS fans are demanding the 'real apology' from the La Mega Channel and DJ Villalobos on the internet. Even some Colombian fans posted messages of apology in Korean on Twitter instead of them.
Columbian daily media, El Tiempo, introduced this issue on the 18th saying, "The success of BTS is attributed to efforts of each member and their agency, and the love given by their fans," and refuted DJ's speaking that BTS succeed by spending money.
By Global Economic Reporter Ki Dong On