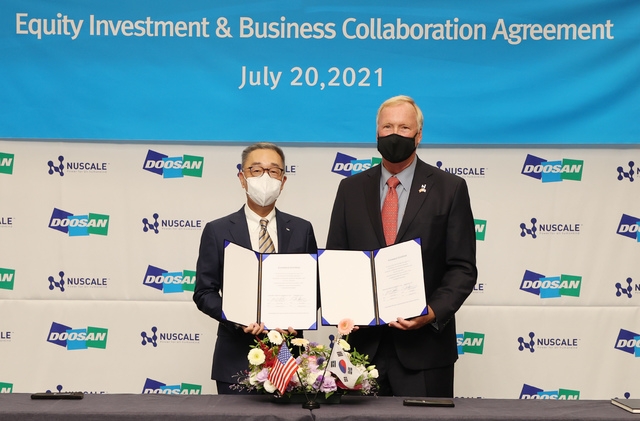 Doosan Heavy Industries & Construction is preparing to expand its SMR (Small Module Reactor) equipment manufacturing business by securing additional supplies for SMR.
Doosan Heavy Industries announced on the 20th that it signed an agreement on additional equity investment with Nuscale Power at the Bundang Doosan Tower in Gyeonggi. Chairman John Hopkins of Nuscale Power and Chairman Park Ji-won of Doosan Heavy Industries participated.
Doosan Heavy Industries agreed to invest additional $60 million with Korean investors following the investment worth $44 million in Nuscale Power in 2019.
Under the agreement, Doosan Heavy Industries can expand its supply of equipment and materials to trillions won, including supplies already secured and supplies that will be secured through the investment. The two companies also agreed to expand their cooperation in hydrogen production and seawater desalination businesses using SMR.
The first cooperation between the two companies is expected to be a project conducted in Idaho by U.S. power operator UAMPS (Utah Associated Municipal Power Systems). The U.S. Department of Energy (DOE) announced that it would provide $1.4 billion for the project in October last year, and UAMPS signed an EPC preparation contract with Fluor, the parent company of Nuscale Power, at the end of last year.
UAMPS is planning to apply for permission to build and operate SMR to the U.S. Nuclear Regulatory Commission (NRC) in 2023, and will obtain permission by 2025. It is currently working on the project for commercial operation in 2029.
By Global Economic Reporter Ji-Wan Nam