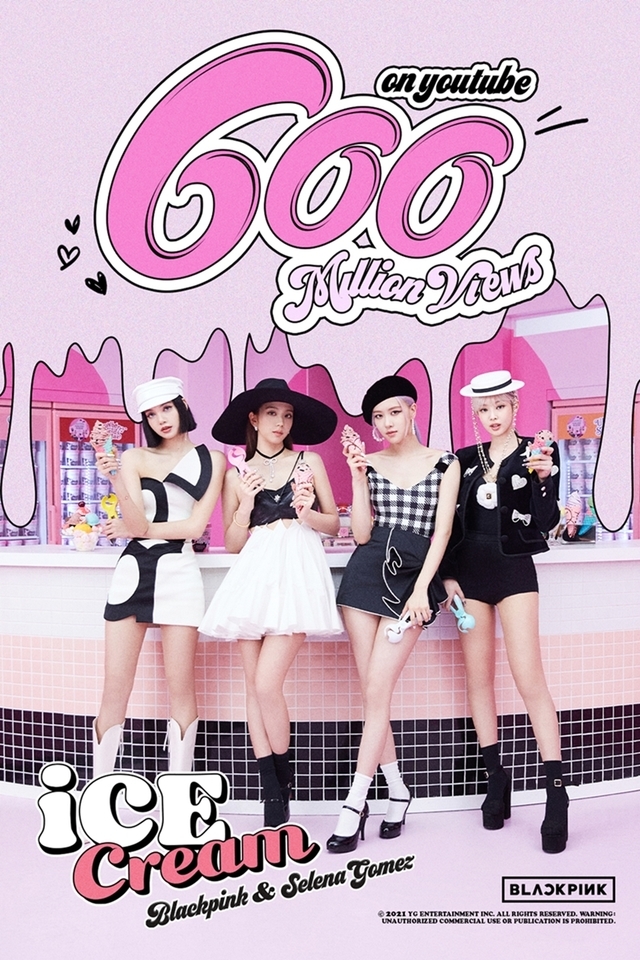 K-pop girl group BLACKPINK's 'Ice Cream' music video has surpassed 600 million views in YouTube. It is the 10th 600 million-view record of BLACKPINK and the largest record of K-pop girl groups.
According to BLACKPINK's agency YG Entertainment on the 22nd, the music video of 'Ice Cream' exceeded 600 million views on YouTube at 8 p.m. It has been 320 days since it was released on August 28 last year, and it achieved 600 million views for less than a year.
'Ice Cream' is a song by BLACKPINK with global pop star Selena Gomez. It is BLACKPINK's first cute concept song, and got attentions with its cheerful melody.
After its release, it ranked 13th on the U.S. Billboard's main single chart 'HOT 100,' and set the new record of K-pop girl groups. In addition, BLACKPINK proved their influence as a global star by maintain its ranking on the Billboard HOT 100 chart for 8 consecutive weeks with 'Ice cream'. It was an achievement made only by their song and music videos, without any other activities due to COVID-19 pandemic.
BLACKPINK's 29 music videos have more than 100 million views. 'DDU-DU DDU-DU', which has more than 1.6 billion views, 'Kill This Love' (1.3 billion views), 'BOOMBAYAH' (1.2 billion views), 'As If It's Your Last' (1 billion views), and 'How You Like That' (900 million views) have set the new records. BLACKPINK's YouTube channel has surpassed 63.2 million subscribers.
By Global Economic Reporter Ki Dong On