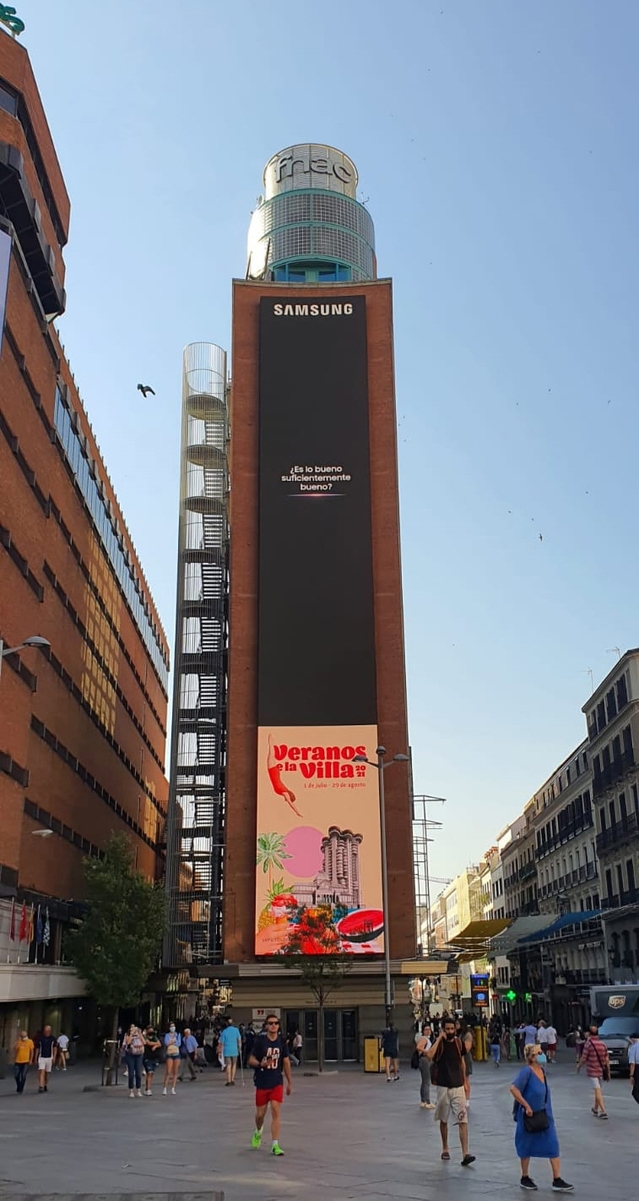 Samsung Electronics confirmed the schedule for Galaxy Unpacked on August 11 and is preparing to popularize foldable phones. Attention is focusing on whether Samsung Electronics will be able to create new opportunities to lead the global smartphone market through Unpacked event in market situation that strongly competitive are rapidly changing, such as LG Electronics' withdrawing from mobile business and Chinese companies' entry.
According to the industry on the 23rd, Samsung Electronics is conducting outdoor advertisements at worlds' landmarks before the Galaxy Unpacked. It unveiled its outdoor advertisements at Times Square in New York, U.S.A., Piccadilly Circus in London, U.K., Duomo Square in Milan, Italy, Callao Square in Madrid, Spain, K11 Shopping Center in Shanghai, China, Central Entertainment Building in Hong Kong, Panoramis Central World in Bangkok, Thailand, and Hydroproject in Moscow, Russia.
The advertisement starts with the question, "Is 'good' good enough?" and shows the message "Get ready to unfold," which is the same copy used in the invitation image. This means that the main products unveiled at Unpacked are foldable phones.
It is expected that new foldable phones 'Galaxy Z Fold 3,' 'Galaxy Z Flip 3,' smart watch 'Galaxy Watch 4' and Bluetooth earphones 'Galaxy Buds 2' will be unveiled at this Unpacked..
Samsung Electronics currently has an overwhelming No. 1 position with 87% of share in foldable phones market. However, as the market grows rapidly, Chinese companies such as Xiaomi, Huawei, Oppo, and Vivo, which have high price competitiveness, continue to challenge. There are also some predictions that Apple will also enter the foldable phone market in 2023.
Samsung Electronics, which needs to maintain its leading position, is betting on its unprecedented low prices and high technology competitiveness.
According to the industry, Samsung Electronics has confirmed the prices of Galaxy Z Fold 3 and Galaxy Z Flip 3 at 1,999,800 won and 1,254,000 won, respectively. Both products are priced about 400,000 won lower than previous models.
In North America, Samsung Electronics also has released a compensation program that compensates not only smartphones but also two used smart devices such as tablets and smart watches. Samsung Electronics had compensated only for one device, but it has launched the unprecedented compensation program for foldable phones success.
Attention is also focusing on new technologies and hardware specifications adopted for new foldable phones.
It is expected that UDC (Under Display Camera) technology will be adopted for Galaxy Z fold 3 that hides cameras under a smartphone screen. It also supports S Pen for the first time in foldable phones.
It is also expected that it will equipped with various high-tech specifications, such as Qualcomm Snapdragon 888 AP (Application Processor), 6.2-inch cover display and 7.5-inch Super AMOLED foldable display, 120 hertz (Hz) scan rate, 12-16GB RAM and 256-512GB storage capacity.
It is predicted that the screen size of Galaxy Z Flip 3 will be widen from 1.1 inches to 1.9 inches. The internal display is 6.7 inches the same as previous model. It is expected to target millennial and female consumers with pastel-toned colors such as light violet, beige, and olive green. In addition, it will be equipped with Qualcomm Snapdragon 888, 8GB RAM, 256GB internal memory, 12 million pixels dual cameras and 3300mAh battery.
By Global Economic Reporter Yong Jun Yeo