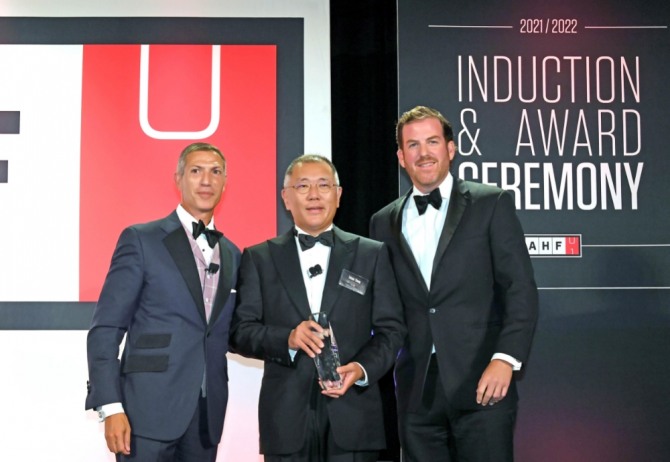 Hyundai Motor Group's Honorary Chairman Chung Mong-koo has been inducted into the Automotive Hall of Fame, which has highest authority in the global automobile industry, for the first time as Korean.
Hyundai Motor Group announced on the 23rd that Automotive Hall of Fame held a '2020/2021 Induction and Awards Ceremony' in Detroit, U.S.A. on the 22nd, and inducted Chairman Chung to the Automotive Hall of Fame.
The marble photo plaques engraved with honorary chairman Chung's handwritten signature will be also permanently exhibited at Detroit's landmark, Automotive Hall of Fame museum.
The Automotive Hall of Fame was founded in 1939, and has inducted people who contributed to the development of the automotive industry and mobility based on outstanding achievements that will remain in the automobiles history.
Major inductees are Ford founder Henry Ford in 1967, inventor Thomas Edison in 1969, Benz founder Carl Benz in 1984, Honda founder Soichiro Honda in 1989, and Toyota founder Kiichiro Toyoda in 2018.
By Global Economic Reporter Jung Hee Kim