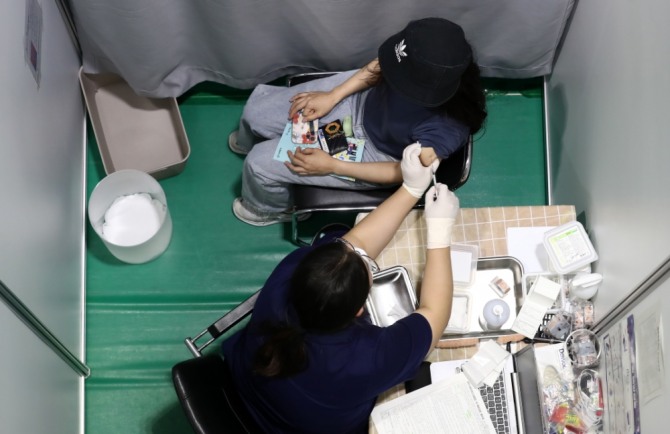 The first dose of COVID-19 vaccination rate is expected to reach 70% on Friday.
As of 00:00 a.m. on the 15th, the previous day, the cumulative number of first-shot vaccination was 34,582,174, 67.3% of the population. In order to achieve vaccination rate 70% of the population, 35,944,381 people must be vaccinated.
Since the 27th of last month, the average number of first dose vaccination per day on weekdays has been 333,735. Considering that the number of vaccination per day has recently exceeded 500,000, it is expected that 70% of population will be vaccinated as early as Friday or Saturday.
The government is planning to increase the vaccination rate to '80% of the population.'
Minister of Health and Welfare Kwon Deok-cheol said at a press interview held at Sejong Government Complex on the 14th, "We are trying to move up the vaccination schedule to 80% of the entire population, and 90% of the adult population who are in their age 18."
On the same day, President Moon also announced at a state council meeting, saying "With the expansion of vaccination age and target, 80% of the entire population and 90% of adults will be vaccinated." He added, "As the second-dose vaccination is also accelerating, it is expected that the goal of the second vaccination of 70% of population, which was moved up to the end of October, will be achieved early."
The government is preparing to also vaccinate 12~17 year old children and pregnant women, who are excluded from vaccination, in the fourth quarter's vaccination schedule. The government said that if additional vaccinations are carried out, 80% of the total population will be achieved.
By Global Economic Reporter Ha-rin Lee ; translate by Gounee Yang