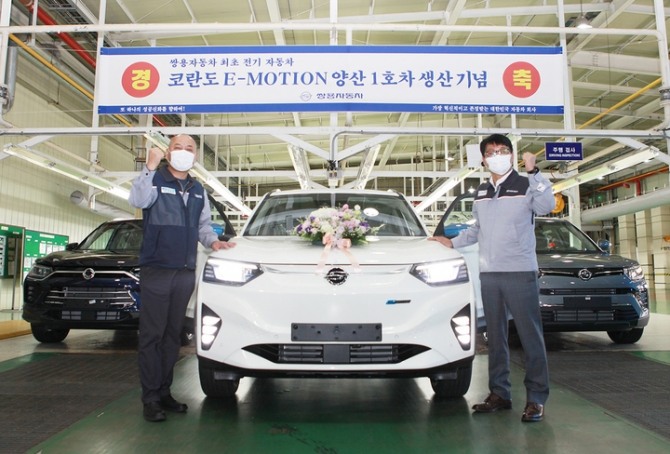 Ssangyong Motor's first electric vehicle (EV) model 'Korando e-Motion' was exported to Europe.
According to Ssangyong Motor on the 16th, Korando e-Motion's initial production quantity 200 units were shipped from Pyeongtaek Port on the 15th. Shipped units will be exported to European countries such as Germany and the U.K., and will be sold in the local markets from November.
Starting with this export shipment to Europe, Ssangyong Motor will expand its release in the global market. It is also planning to adjust the release schedule in Korea in consideration of supply situation of components, such as semiconductors.
The model name Korando e-Motion was named with meaning that is to be faithful to the customer's 'Emotions' by combining 'EV' and 'Motion (Dynamics)' as well as to success brand value of Korando.
It is a Korea's first semi-medium-sized SUV electric car that has perfect cabin and usability as a family car. It has streamlined body, which minimizes air resistance, and pursues optimized style for urban driving.
In order to reduce the weight and optimize the center of gravity, Ssangyong Motor applied aluminum hood (engine room cover) and sealed radiator grill for the first time. With 61.5㎾h battery, the distance to empty on a single charge is 339km (based on WLTP standard).
By Global Economic Reporter Chang-ho Lee ; translate by Gounee Yang