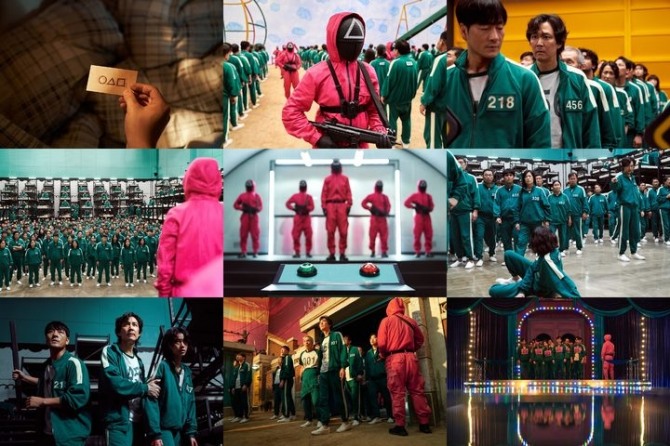 As Netflix's original series 'Squid Game' has become the first Korean drama to be listed in Netflix's most watched TV programs in the world and achieved global success, attention is being paid to whether the K-foods, which appeared in Squid Game, will be the next- Jjapaguri.
The scene in the Squid Game, various Korean food products, including Samyang's Original Ramen, green bottle soju presumed to be Chamisul or Chum-Churum, Coca-Cola's Kin Cider, Tteokbokki of snack cart, and dalgona, appeared.
Among these products, as raw ramen for drinking snacks and dalgona are not frequently appeared in other Korean contents, global consumers' interest in these foods is also expected to increase. It is also expected that raw ramen products and drinks using dalgona will become the second Jjapaguri.
According to the OTT (Over-the-top media service) streaming content ranking site FlixPatrol on the 27th, Squid Game topped the Top 10 Most Watched Netflix TV Series in the world on the 24th. 'Sex Education season 3' was ranked the second and 'Lucifer' took the third place.
Squid Game ranked second in the world's most watched TV programs ranking on the Netflix TV for the first time as a Korean drama on the 20th, and topped the list on the 23rd by gaining popularity steadily. The upward trend continued on the 25th and 26th, weekends.
It also topped the Netflix TV programs ranking in the U.S. for the first time as the Korean drama. It maintained its No. 1 position for 4 days since the 21st. The highest ranking previously recorded by K-drama on the U.S. Netflix was 'Sweet Home', which ranked the third.
As the popularity of Squid Game increases, interest in Korean food appearing in the drama is also growing.
For example, there are scenes of the main character Ki-hoon (actor Lee Jung-jae) buying tteokbokki to his daughter on her birthday in the first episode, eating the Samyang Ramen as a snack while drinking soju with Il-nam (actor Oh Young-soo), and making dalgona as a game.
As Squid Game gets more popularity, the food industry is expecting that Korean food in the drama will also be popular like Jjapaguri, which became popular due to the movie Parasite. Sales are also likely to increase due to product promotion effects.
Samyang Foods is expected to gain benefits first from the success of Squid Game. This is because the scene where the main characters eat the original Samyang Ramen raw as a snack with soju while considering whether to participate in the game again has become a hot topic.
Samyang Food has previously set a target of $300 million in exports this year. Until now, the main export item was the Hot Chicken Flavor Ramen (buldak-bokkeum-myeon) products, but it is predicted that if exports of Samyang Ramen increase rapidly with the success of Squid Game, it will be possible to achieve this year's export target.
Soju exports are also expected to increase. Beneficiary companies are Hite Jinro and Lotte Chilsung Beverage. Because the soju brand name was blurred in the drama, overall soju expects could also increase rather than certain brands.
In addition, beverage products using dalgona are expected to gain benefits. From 2019 to last year, the coffee shop franchises introduced latte products using dalgona, and it became a trend.
As overseas consumers' interest in dalgona grows, overseas coffee franchises are expected to introduce menus using dalgona, and demand for dalgona RTD (Ready to Drink) products can also increase. Also, dalgona latte products can be exported.
Purmil previously released 'Dalgona Latte' last year with the huge trend of dalgona coffee. In the distribution industry, convenience store GS25 worked with Haekwang DM to release 'Dalgona Latte.' Both products give sweet and bitter flavor of melted dalgona in milk.
In addition, K-food products, which are familiar to Koreans but unique to overseas consumers, in Squid Game will gain popularity. Snack products are examples. Currently, Orion and LOTTE Confectionery are targeting overseas snack markets.
In particular, oversea sales of Orion significantly increased, posting the highest performance for 2 consecutive years last year. Orion has 10 overseas production bases, including China (5), Vietnam (2), Russia (2), and India (1).
Despite the sales decrease in the Indian market due to COVID-19 last year, LOTTE Confectionery is focusing on boosting exports as operating profit at subsidiaries in Belgium, India, and Singapore has improved in the first half of this year.
"Since the spread of the Hallyu (Korean Wave) trend, interest in Korean food and culture has increased in various countries including Southeast Asia, and even fandom for K-food is also emerging," an industry official said. "As the popularity of Squid Game is concentrated in America and Europe countries, K-food products in the drama are also expected to be popular, like Jjapaguri."
By Global Economic Reporter Min-ji Son ; translate by Gounee Yang