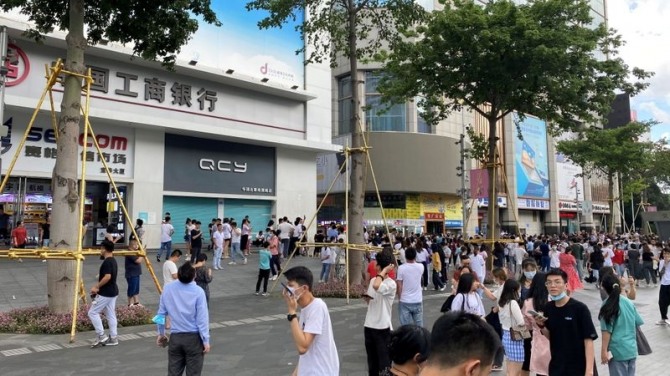 SHENZHEN'S population ranked third among seven megacities in China in 2020, according to the data from the seventh national census provided by the National Bureau of Statistics and released at Qiushui Journal's latest issue.
According to the 2020 census, China has seven megacities that are characterized by an urban dwelling population exceeding 10 million but less than 20 million.
Shanghai and Beijing took the lead with urban populations of 19.87 million and 17.75 million respectively. Shenzhen ranked third with 17.44 million, and was followed by Chongqing, Guangzhou, Chengdu and Tianjin, according to the demographic situation of megacities and metropolitans in the census report.
The city's gender ratio stood at 122.43 males to 100 females, which ranked the highest among Beijing, Shanghai, Guangzhou and Shenzhen. People between 15 and 59 years old accounted for 79.59 percent of Shenzhen's total, which is higher than the figures in other three cities. This indicates that Shenzhen is a young city and enjoys "population bonus." The city had the least proportion for the elderly, 60 years old and above, with 5.33 percent.
"Shenzhen's population increase is attributed to its fast-developing economy, which spurs emerging industries like internet. New startups and private enterprises expanded employment channels and made Shenzhen more resilient, inclusive and attractive," said Zhao Dan, associate researcher from Shenzhen Academy of Social Sciences. Young people are also attracted to the city's favorable business environment, public services and incentives to young talents.
Shenzhen Municipal Statistics Bureau noted that the city's large disparity in gender ratio was partly due to its adjusted and upgraded industrial structure. The city's high-end emerging industries such as the information industry, finance, communications, logistics, high-end services and even architecture have more male workers than female ones.
"Shenzhen is a science-type city whose high-tech, internet and manufacturing industries attracted a large number of male workers. Meanwhile, its service sectors such as supermarkets, housekeeping, training, and finance and insurance attracted a great number of females," said Zhao.
By Shenzhen Daily reporter Han Ximin