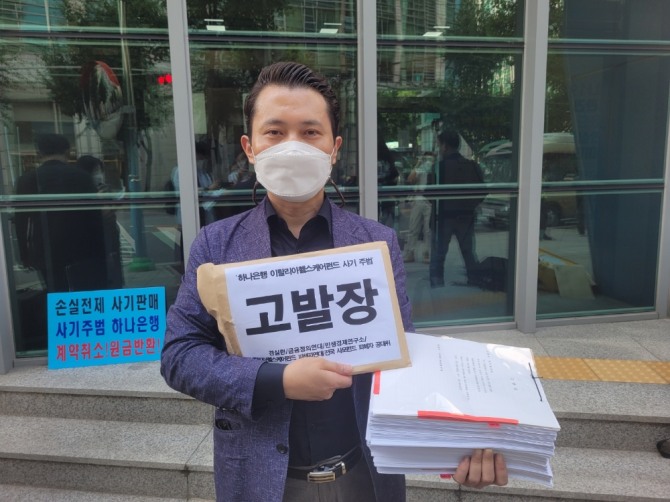 Officials from civil society organizations, who accused the fund seller Hana Bank, fund managers, and securities firms related to the massive redemption suspension of the 'Italy Health Care Fund', attended the police and were investigated on the 30th.
On this day, various civil organizations, including Citizen's Coalition for Economic Justice, Citizens for Financial Justice, Italy Health Care Fund Victims Coalition, and Nationwide Private Fund Fraud Damage Measure Committee, urged the investigation in front of the Seoul Metropolitan Police Agency's Department of Financial Crime Investigation. They claimed, "Investment managers and TRS (Total Return Swap) securities firms as well as Hana Bank were already aware of the risk of the fund."
In July last year, the civil organizations asked the Seoul Southern District Prosecutors' Office to investigate Hana Bank and other firms for fund fraud, but as there was no progress, they added criminal charges and filed a complaint with the Seoul Metropolitan Police Agency again in September this year.
The organizations said, "Fund sellers told investors that they can definitely make at least 5∼6% of profits. However, considering that TRS securities firms maintained their margin by raising the maintenance requirement rate of collateral to 100% from original 30%, it is suspected that the related companies already knew the risks."
According to the organizations, Italy Health Care Fund is a Fund of Funds product that invests in medical expenses sales bonds, which are claimed by Italian hospitals to local governments between 2017 and 2019, and was sold about 150 billion won in Korea.
Since the end of 2019, redemption has been postponed or early redemption has failed, and the amount of damage identified so far has reportedly exceeded 110 billion won.
The organizations said, "Sellers deceived that most of the funds are invested in sales bonds with short maturity and certain redemption. However, the actual maturity was very long and redemption was also unclear, so the early redemption was impossible from the beginning."
By Global Economic Reporter Sang-il Baek ; translate by Gounee Yang