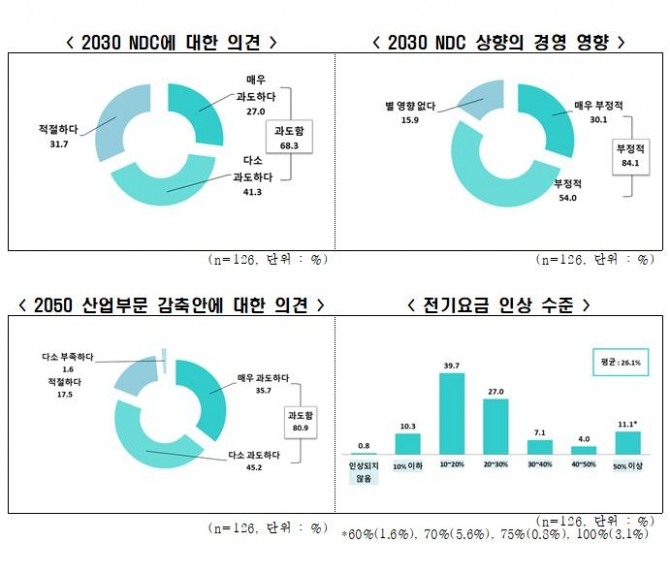 Regarding the recent greenhouse gas emissions reduction target promoted by the government and the National Assembly, 84% of Korean companies are concerned that their business will be worsened. Seven out of 10 major greenhouse gas emissions contributors evaluated that the 2030 NDC (Nationally Determined Contribution) target specified in the 'Carbon Neutrality Act,' which was recently passed by the National Assembly, is too much.
On the 4th, the Federation of Korean Industries requested Mono Research, a public opinion poll research firm, to conduct survey of 2030 NDC target and carbon neutrality policies on 350 companies (126 respondents), which are designated to be managed for greenhouse gas and energy management, from the 6th to the 16th of the same month.
According to the survey, 68.3% of the respondents said that the 2030 NDC target specified in the Framework Act on Carbon Neutrality is too strict, and 84.1% said that 2030 NDC target increase will have a negative impact on their business. The most common reasons were 'increasing corporate burden such as purchasing emission license and responding to stricter regulations (39.5%)', 'limitations of carbon emissions reduction under the manufacturing-oriented industrial structure (34.9%),' 'inability to commercialize the carbon reduction technology by 2030 (18.6%),' and 'increasing corporate burden such as electricity bill increase due to limitations of the expansion of renewable energy generation (7.0%).'
The 2050 Carbon Neutrality Committee previously proposed the 'Carbon Neutrality Scenario,' which reduces 79.6% in greenhouse gas emissions in the industrial sector in 2050 compared to 2018. Regarding this, 80.9% of respondents said that it was too much, while 19.1% said it was appropriate or insufficient. In addition, according to the survey, electricity bills is expected to increase 26.1% on average if the Energy Mix, a plan to significantly expand renewable energy use and reduce nuclear power generation proposed by the Carbon Neutrality Committee, is implemented.
Regarding the status of responding to the carbon-neutral policy, only 3.2% of companies said they 'completed the establishment of a response plan.' 67.4% said they were 'working on a process to establish a response plan,' and 29.4% said they were 'not preparing the response plan yet.'
Also, 35.3% of the respondents said that the most urgent policy task is 'setting reduction targets through collecting industry opinions.' It was followed by 'supporting facility investment to reduce greenhouse gas (21.4%)', and 'building infrastructure to supply new energy, such as renewable energy and hydrogen (14.4%).'
Yoo Hwan-ik, director of the office for corporate policy of the Federation of Korean Industries, said, "The 2030 NDC target should be set in consideration of the manufacturing-oriented industrial structure and the inability to commercialize carbon reduction technologies early. Also, the government should fully collect opinions from industries to set future reduction target and reflect them in policies."
By Global Economic Reporter Hyun-ju Han ; translate by Gounee Yang