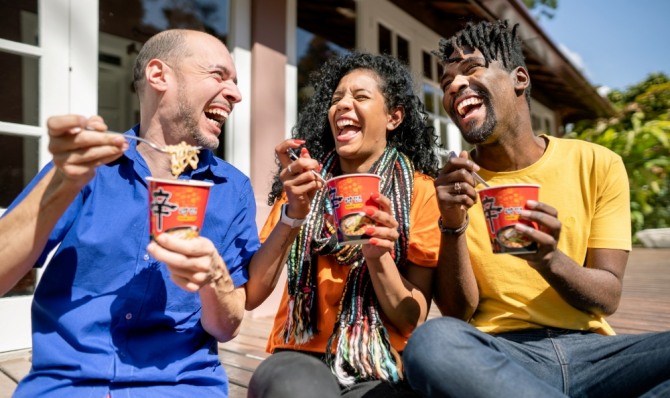 Nongshim announced on the 5th that its flagship product Shin Ramyun's overseas sales exceeded domestic sales by the third quarter of this year.
The cumulative domestic and foreign sales of Shin Ramyun posted 690 billion won in the third quarter. Among them, overseas sales amounted to 370 billion won, accounting for 53.6% of total sales.
If this trend continues, Shin Ramyun is expected to post 500 billion won in overseas sales this year. This year's cumulative domestic and overseas sales are estimated at 930 billion won. Shin Ramyun's annual sales of 1 trillion won became visible.
Nongshim's strategy to enter the global market, "The most Korean taste is the most global taste," was the main reason why Koreans' favorite spicy Shin Ramyun was able to gain greater popularity abroad.
Shin Ramyun, which was released in 1986, started exporting and expanding to global market from 1987. Nongshim, which had been expanding to overseas by exporting ramyun products to the LA city since 1971, released the original taste of Shin Ramyun in global markets.
Starting Shanghai plant in China in 1996, Nongshim has established production bases overseas, including China's Qingdao Plant (1998), Shenyang Plant (2000), and the U.S. LA Plant (2005), and sales corporation, including Nongshim Japan (2002) and Nongshim Australia (2014).
As a result, Shin Ramyun has been selected as a 'Korean Luxury Product Loved by Chinese' by People's Daily Online several times since 2014, and has grown into a global F&B brand that is placed at about 4,000 Walmart stores in the U.S. for the first time as a Korean food product in 2017, and has being sold in 100 countries.
Nongshim is planning to boost its global sales with this achievement. If the second plant in the U.S. is completed and begins operation, it is expecting that it will be able to achieve greater growth by increasing supply to Mexico and South America as well as the U.S.
By Global Economic Reporter Min-ji Son ; translate by Gounee Yang