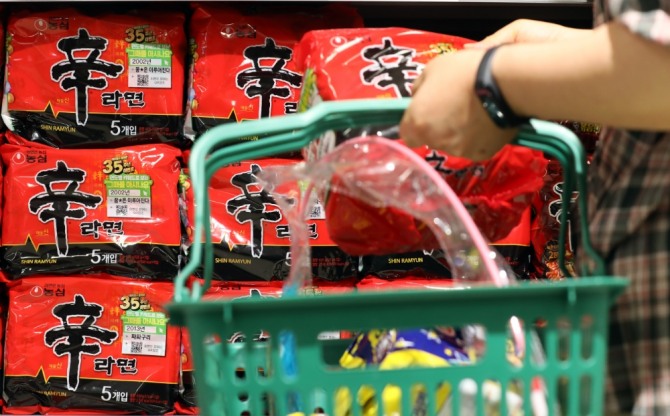 Exports of Korean ramen products are expected to hit a record high this year. The current main exporting companies are Nongshim and Samyang Foods. These companies are planning to target overseas markets by establishing local plants and sales branch.
As COVID-19 pandemic has been prolonged since last year, the outlook of ramen exports is expected to be bright. Sales can also rise sharply if demand for Korean ramen products increases in major importing countries.
There is also good news following Chapaguri, which drew attention in the movie Parasite last year. In the Netflix original series 'Squid Game,' the main character drinks soju and eats the original Samyang Ramen raw as a snack. This scene has drawn attention from overseas.
According to the food industry on the 6th, Nongshim Shin Ramyun's cumulative sales in domestic and overseas market were 690 billion won in the third quarter, of which overseas sales amounted to 370 billion won. The sales in overseas market accounted for 53.6% of total sales.
Previously, Shin Ramyun's domestic and overseas sales posted 430 billion won and 330 billion won respectively in 2019, however, as the proportion of overseas sales have increased significantly, the gap has narrowed with 440 billion won of domestic sales and 420 billion won of overseas sales in 2020.
If the current trend continues, Shin Ramyun is expected to record 500 billion won in overseas sales this year. Expected sales in domestic market are around 430 billion won. The proportion of overseas sales will surpass domestic sales for the first time since Nongshim exported its ramen products in 1971.
One of the reasons why Nongshim Shin Ramyun has become popular is the popularity of K-content. As global consumers' interest in Korean movies, dramas, and TV shows increases, the popularity of Korean ramen products, which often appeared in scenes, is also growing.
Chapaguri, which gained popularity by appearing in the movie Parasite, is a good example. As global interest in Chapaguri (Chapagetti +Neoguri) increases, Nongshim's sales rose significantly last year.
In addition, Shin Ramyun was selected as the 'world's best ramen' in various media, including the New York Times, and was recognized for its taste and quality. Among global consumers, now ramen has become a 'square meal' rather than just a snack.
Samyang Food, which has been producing and exporting products in Korea, has also started to expand its overseas market share by establishing foreign branches. The company has officially announced its plan to increase the proportion of local subsidiaries in Japan, the U.S., and China to 70% of overseas sales by 2025.
Samyang Food's flagship product is Buldak (Hot Chicken Flavor Ramen) brand. Buldak Ramen, which was released in 2012, had gained popularitly among spicy food manias and became a global hit product through the 'Fire noodle challenge' started on YouTube in 2016.
This product surpassed 1 billion cumulative sales in 2017, 2 billion in 2019, and 3 billion in 2021. In particular, growth in overseas markets is remarkable. The export amount, which was only 10 billion in 2015, exceeded 300 billion won in 2020. Exports were also expanded to 85 countries.
With the high popularity of Buldak products, Samyang Foods achieved $100 million in exports in 2017 and $200 million in exports in 2018. Also, it has set a goal of achieving $300 million this year.
In addition, benefits from Netflix's original series 'Squid Game' is expected. It is because the scene where the main character Gi-hun (actor Lee Jung-jae) drinks soju and eats the original Samyang Ramen product raw as a snack with Il-nam (actor Oh Young-soo) is becoming a hot topic.
Eating raw ramen as a snack is a familiar culture in Korea, but there are many reviews that this scene is interesting in overseas. Therefore, if many global fans follow the scene of the drama, the benefits in sales are expected.
"While Korean ramen products continue to be popular in China, Japan, and Southeast Asia countries, they are also growing in Europe and the U.S. as the popularity of K-content increases," an industry source said. "It is expected that exports of Korean ramen products will probably hit a record high this year."
By Global Economic Reporter Min-ji Son ; translate by Gounee Yang