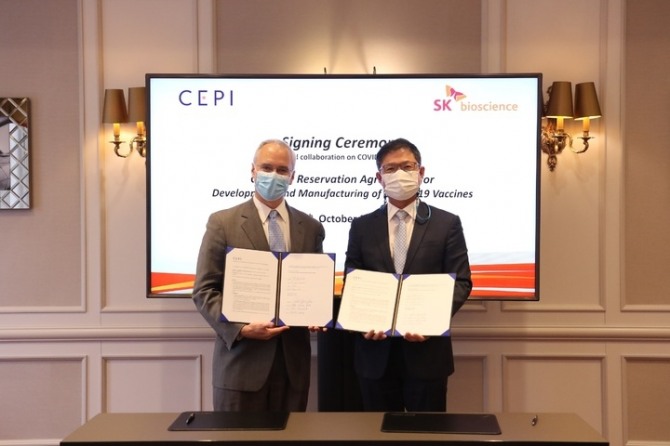 SK Bioscience will continue its contract manufacturing of COVID-19 vaccine from global pharmaceutical companies next year.
SK Bioscience announced on the 6th that it has extended its 'Capacity Reservation' contract to use its L HOUSE vaccine centers' production facilities for manufacturing COVID-19 vaccines of CEPI-supported companies at the signing ceremony of MOU with International Private Organization CEPI, which was held in Brussels, Belgium on the 5th.
Also, it has decided to expand joint efforts in research on various infectious diseases that are frequently occurring in recent years and development of vaccines.
At the event, SK Bioscience and CEPI finally agreed to extend the contract to use undiluted vaccine production facilities of L HOUSE in Andong. Three out of nine facilities of SK Bioscience's L HOUSE will be used for manufacturing COVID-19 vaccines developed by a company supported by CEPI.
SK Bioscience received '1 euro (about 1,375 won)' for initial down payment as a symbolic meaning. CEPI also agreed to continue to use SK Bioscience's facilities with the aim of securing fair access to vaccine by supplying additional COVID-19 vaccines to the world through COVAX Facility. COVAX Facility is planning to supply a total of 2 billion doses of COVID-19 vaccine to the world by the first quarter of next year.
By Global Economic Reporter Hyun-ju Han ; translate by Gounee Yang