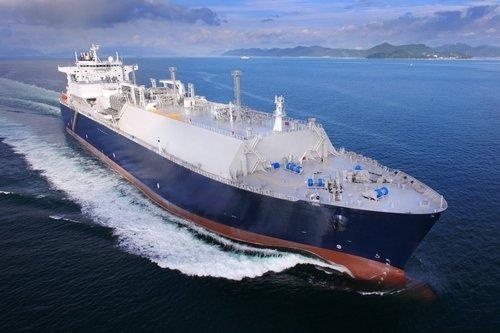 China and Japan, which compete with South Korea in the global shipbuilding market, have recently placed orders for ships on Korean shipbuilders.
As these two countries place orders in their domestic shipbuilders close to 100% it is very unusual that they place ship orders in other countries, especially Korea, their strong competitor.
According to the U.K. shipbuilding and shipping market analysis firm Clarksons Research on the 15th, Korea won a total of 562,833 CGT (11 ships) from Japanese shipping companies between January and September this year.
Ordeed ships are five LNG carriers, four LPG carriers, and two tankers. LNG carriers are reportedly ordered by Japan's largest shipping company Mitsui O.S.K. Lines to Daewoo Shipbuilding & Marine Engineering [042660].
Although it was not included in the Clarkson Research data, four LNG carriers worth 1 trillion won orders won by Samsung Heavy Industries (010140) ate last month were jointly placed by Russian shipping company Sovcomflot and Japan's NYK.
Japan, which was the world's No. 1 shipbuilding country in the past, is currently working hard to catch up Korea and China by establishing 'Nihon Shipyard,' a joint venture between Japan's No.1 shipbuilder Imabari Shipbuilding and No.2 shipbuilder Japan Marine United Corporation.
The industry explained that although Japan has high capabilities, LNG carriers, which need high technology for construction, had no choice but to place orders in Korea, which has the most advanced technology. LNG carriers must maintain a temperature below -163 degrees while sailing to minimize the LNG amount lost by gas.
In particular, LNG carriers ordered by Japanese shipping companies will be used for Russia's 'ARCTIC LNG-2 project, and it is considered that Korea's 'Big 3' companies such as Daewoo Shipbuilding & Marine Engineering have unique competitiveness in these icebreakers.
Recently, orders from Chinese shipping companies have also continued.
According to the Clarkson Research's data, Chinese shipping companies also recently placed orders for 10 container ships (101,990 CGT) on Korean companies. Last year, there was no ship ordered by China to Korea.
Unlike Korea, which focuses on high value-added ships, China mainly wins orders for low-cost ships and orders nearly 100% of ships on their domestic shipbuilding companies. Industry officials said it is especially unusual that Chines companies place orders in Korean shipbuilders at a higher price than Chinese domestic shipyards.
"The shipbuilding industry is a basic industry, so most of orders from Korea, China, and Japan are placed on their domestic companies," an official of shipbuilding industry said. "In particular, it is very unusual to place orders in competitors."
By Global Economic Reporter Ji-wan Nam ; translate by Gounee Yang