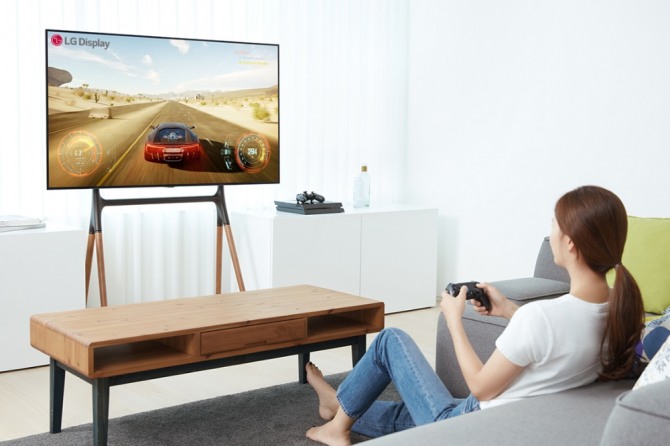 Samsung Display and LG Display are expected to see their operating profit more than triple in the third quarter of this year with the release of new smartphone models and increased demand for electronic devices due to COVID-19.
According to the industry and securities market on the 19th, Samsung Display's sales in the third quarter are expected to reach 7.2 trillion won, similar to the previous year (7.32 trillion won). However, operating profit is estimated to be 1.5 trillion won, which is expected to triple compared to the previous year (470 billion won).
LG Display is also expected to post 7.1 trillion won in sales and 590 billion won in operating profit in the third quarter of this year. It is predicted that operating profit will increase 3.6 times year-on-year (164 billion won).
It is analyzed that the display companies' operating profit increased significantly in the third quarter because sales of OLEDs (Organic Light-Emitting Diode) have increased.
In case of Samsung, demand for smartphone OLEDs has increased significantly due to the release of Samsung Electronics' foldable phones Galaxy Z Folder 3 and Z Flip 3 and Apple's iPhone 13 series. Samsung Electronics is Korea's No.1 in the small and medium-sized OLED market that is mainly used for premium smartphones.
The industry analyzed that the increase in TV product sales has led to increase in LG's profits.
In particular, sales of large OLED panels dominated by LG Display have been increasing. As indoor activities increased due to COVID-19, OLED TVs became popular faster than expected, leading to strong sales. The market research firm Omdia predicted that OLED TV market will reach 6.5 million units this year. In addition, LCT TV products also contributed to the increase in profits as components prices have increased due to the surge in global demand for TVs.
However, despite the high-growth of Korean display companies in the third quarter, expectations for fourth quarter earnings are low. This is because competition in the display market has intensified as Chinese companies are chasing quickly.
China's BOE ranked second in the smartphone OLED market share (6.7%) in the second quarter, overtaking LG Display.
Samsung Display has still secured an overwhelming market share of 73%, but it cannot be relieved.
According to foreign media, BOE recently received conditional approval from Apple to supply OLED panels for iPhone 13. It is expected that BOE's supply of OLEDs for iPhone 13 will be a small amount, but Samsung Display and LG Display are concerned that Apple could demand the panel price cut.
As LCD (Liquid crystal display) prices, which supported LG Display's strong performance this year, have recently begun to fall, sales are also expected to decrease in the fourth quarter.
According to the industry, prices of 55-inch LCD TV panels decreased by 7.7% in the first half of October compared to the previous month. In addition, the smartphone industry is also expected to reduce production at the end of the year due to the global semiconductor shortage.
The display industry is responding by strengthening its portfolio.
Samsung Display is planning to target large-sized TV OLED panel market that is virtually monopolized by LG Display. Samsung Display is expected to start mass production of QD (Quantum dot) displays, the large-sized OLED for TVs, in the fourth quarter of this year.
On the other hand, LG Display is seeking new business opportunities in the small and medium-sized OLED market led by Samsung Display.
In August, LG Display has decided to establish a production line for Gen-6 OLED panels at its Paju Plant and invest 3.3 trillion won. Also, it is planning to invest $1.4 billion (about 1.64 trillion won) in Haiphong factory in Vietnam to produce medium-sized OLED modules for tablets, PC monitors, and laptops.
By Global Economic Reporter Yong-jun Yeo ; translate by Gounee Yang