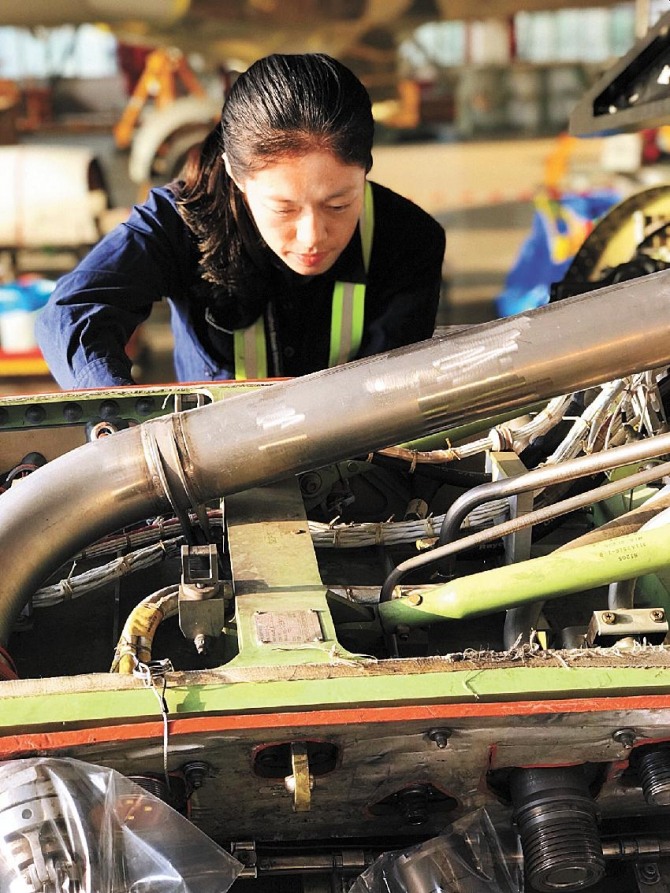 GUO WEI, an aircraft maintenance engineer who was born in the 1990s, said that she achieved her dream career in Shenzhen, DT News reported.
Guo recently won third place of the first prize at the aircraft maintenance vocational skills session of the 2021 Shenzhen vocational skills competition. She was the only female finalist at the contest.
Guo came to Shenzhen in 2016 after graduating from the Civil Aviation University of China. Since then, she has been working in Shenzhen Airlines as a maintenance worker.
"I've been yearning for the blue skies since I was a child and I long for one day to connect with a plane flying in the sky. After learning that Shenzhen Airlines has many female maintenance workers, I decided to give myself a chance," said Guo, who majored in mechanical and electronic engineering.
Guo's main job is to check and ensure that planes are operating properly and safely. She is a diligent worker and as long as she is in uniform, she takes her work very seriously.
"Airplane maintenance is a very rigorous engineering system involving thousands of parts and components, which cannot be done sloppily. Every part of my work is related to the lives and safety of the aircraft's passengers and crew, so no mistake is allowed," Guo said.
"Troubleshooting problems for one aircraft takes seven to eight hours, sometimes even more than 10 hours. We are like surgeons to cure aircrafts' diseases," she adds.
Guo now leads her younger colleagues to complete maintenance work and undertakes big aircraft maintenance projects.
Working conditions for aircraft maintenance are complicated, in addition to Shenzhen's long summer, with temperatures on the airport apron soaring to as high as 50 degrees Celsius.
"Although the job is not glamorous, I love this job deeply and it requires a whole-hearted effort. I am willing to dedicate myself to this career," Guo said firmly.
"I like traveling around to see different places and experiencing different cultures. In the future, I would like to take the plane I repaired to travel from Shenzhen to other places around the world," said Guo.
By Shenzhen Daily reporter Wang Jingli