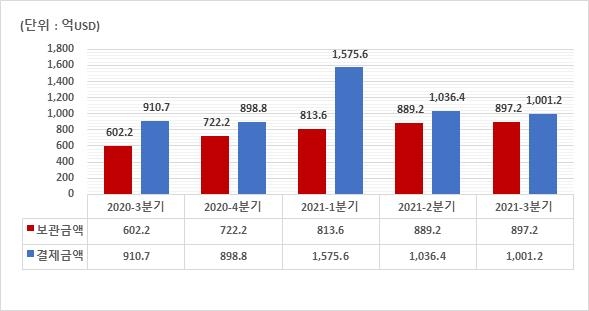 The number of Korean retail investors' overseas stock accounts exceeded 3.31 million. Overseas stock transactions surpassed $288.9 billion this year, recording the largest amount ever.
According to data submitted by the Financial Supervisory Service to the lawmaker Jin Sun-mi, a member of the National Assembly's Political Affairs Committee, on the 20th, the number of overseas stock accounts of retail investors stood at 3,319,981 as of the end of June this year, up 74% year-on-year.
The number of overseas stock accounts has increased sharply over the past five years from 303,712 in 2019 to 1,896,121 last year.
As of the end of September, overseas stock transactions (sales and purchases) amounted to $288.996 billion, up 45% from the transactions recorded for all of 2020.
Overseas stock transactions increased from $32.57 billion in 2018 and $40.99 billion in 2019 to $198.32 billion last year.
In particular, transactions in the U.S. stock market increased significantly to $30.87 billion in 2019.
By Global Economic Reporter Jun-beom Jung ; translate by Gounee Yang