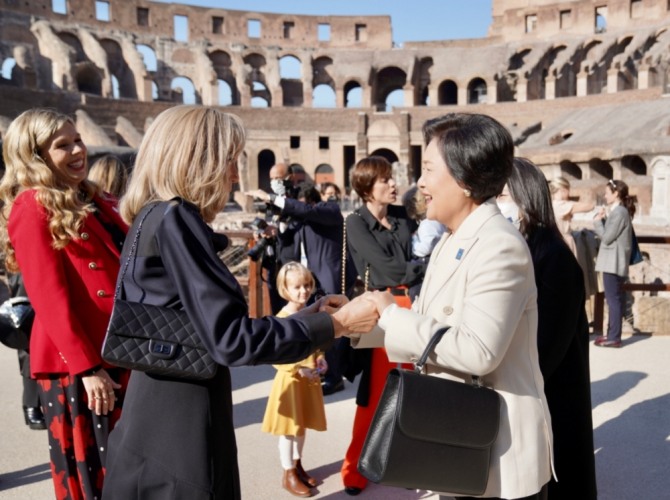 The 'Hanji (Korean traditional paper) handbag' introduced by S. Korea first lady Kim Jung-sook, who is visiting Italy with President Moon Jae-in to attend the G20 summit, became a hot topic and has been sold out online.
According to Cheong Wa Dae, Mrs. Kim attended a G20 partners' program held at the Capitoline Museum in Rome on the 31st of last month, and introduced the Hanji bag to Spain's first lady Mrs. Begona Gomez, saying "Hanji is made of mulberry trees so it does not make the forest disappear." Mrs. Kim said, "Hanji does not harm nature for people. Korea encourages eco-friendly production."
In response, Mrs. Gomez said, "The bag made of Korean traditional paper is beautiful," and that, "It is desirable for the Earth that the young Koreans come up with new ideas to preserve traditions and nature." Cheong Wa Dae said that Mrs. Kim agreed that 'the international community should cooperate for a sustainable future where nature and people coexist.'
According to the fashion industry on the 3rd, Mrs. Kim's Hanji bag is Korean vegan bag brand PERITO's 'Bled Standard Bag.' PERITO launched this bag with the aim of 'making a beautiful and good bag without animal sacrifices.' Currently, its items are being sold out at online malls.
PERITO announced on its website, "Currently, there are many orders, so Mrs. Kim Jung-sook's Bled and Pino bags are out of stock. The notice of out of stock was delayed due to a sudden rush of orders." It said, "As it is a handmade product, it will take about two to three weeks to restock."
PERITO CEO Yoo Ji-hyun, who designed this bag, said in a telephone interview with Newsis, "There was no contract with Cheong Wa Dae, so I think Mrs. Kim ordered it by herself," and that, "Sales were not high since the brand was launched in November last year, but Bled and Pino bags have been sold out yesterday, and the other products are also being sold quickly. It's an honor."
Hanji bags are made of vegan leather, but they are so similar in material to animal leather. PERITO introduced that its products have feather-like lightness and strong durability, saying a '500g miracle.' PERITO's products are vegan leather bag made of eco-friendly oak wood and have 99.9% natural antibacterial power. It provides to contamination and scratch resistance. The price is 327,000 won.
"Since COVID-19, we designed vegan bags for sustainable fashion and looked for vegan leather manufacturers in Korea," said CEO Yoo. "I found a company that manufactures vegan leather, which is as luxurious and durable as animal leather, and thought that it could make better bags without animal leather."
By Global Economic Reporter Son Min-ji ; translate by Gounee Yang